Everybody loves those moments when you feel yourself to be "part of history in the making." I'm sympathetic with that. It's exciting when you feel like you're becoming part of a great movement, or something that people will look back on in wonder. No surprise today that, with the profusion of cell-phone cameras, you can't go within five feet of anything "historical" without someone snapping their own grainy photo of it. It's not that they think their cell phone photo of the Mona Lisa is going to be somehow a replacement of it — it's some kind of act of documentation, some sort of "I was here" motion, in an age where getting accurate reproductions of famous things has become a trivial as typing their names into a search bar. But despite its obvious presence in modernity, the compulsion to self-document seems to be pretty old:
But I digress a bit. Today's set of images is a grouping of self-documentation that I find fascinating. In the late summer of 1945, a group of scientists and technicians from Los Alamos went to the island of Tinian to prepare for the dropping of the atomic bombs on Japan. The first atomic bombs were big, clunky, ad hoc engineering creations and took a lot of work to put together, so the level of scientific talent was pretty high. Just to illustrate this, it's worth noting that one of the people who assembled the final bombs was Luis Alvarez, who would later win a Nobel Prize in Physics:
The scientists heavily documented the Tinian mission. John Coster-Mullen has used a lot of these now-declassified photos to pretty extreme ends in figuring out exactly what they were doing in assembling these bombs. But my favorite set of photos are these ones the Tinian scientists took of themselves in front of Quonset hut with a funny little box in their hands:1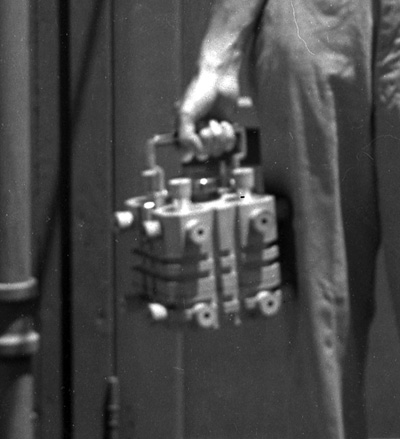 If you haven't guessed it from the post title alone, that little box is a padded, shielded container that holds the plutonium core for the "Fat Man" bomb that was dropped on Nagasaki. The amount of plutonium in that box was worth about $5 billion dollars in modern money.2 And would kill some 80,000 Japanese.
But I guess that's what one does, right? You're making history, so you pose with the bomb. Except you can't really pose with the whole bomb very easily — but you can pose with its little core, a little box of concentrated treasure, death, and, for those who saw it as a possible end to the war (or maybe even all wars), hope. Quite a potent mixture.
The original source for these are the TR- series of photographs from Los Alamos National Laboratory. These particular files were provided to me by John Coster-Mullen as part of a much larger set of TR- series photos. [↩]
Stephen I. Schwartz, ed., Atomic Audit: The Costs and Consequences of U.S. Nuclear Weapons Since 1940 (Brookings Institution Press, 1998). See esp. the Brookings Institution page on The Costs of the Manhattan Project. [↩]