Once again, somebody has been killing Iranian nuclear scientists. Iran blames the usual suspects (CIA, Mossad), which may be correct as far as I know. This is, according to the Times, the fourth such attack in the last two years.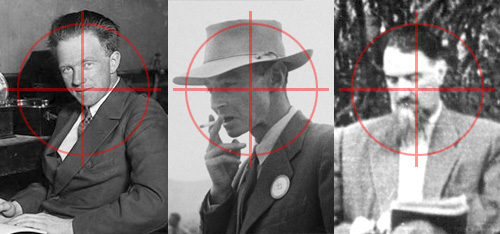 As an historian, I'm struck with the fact that this is, as far as I know, a fairly novel mode of non-proliferation policy, if that is what it is indeed meant to be. I don't want to speculate too much on the true motives of such a thing — there could be much deeper games going on here than are obvious on the surface of things. But let's just pretend, for the sake of discussion, that it is indeed a state like Israel that is doing this with the idea of disrupting the Iranian attempts at a latent nuclear weapons capability.
Historical examples
The use of assassination as defensive policy is not a new one. There is an entire legal doctrine of "targeted killing" in the United States which means that killing someone, even if their risk to you is not imminent (they are not, for example, actually hurling a grenade at your troops), without any due process, rights, or attempt at arrest, is technically not "assassination," because, after all, your nation has a vague ability to declare it self-defense. It's meant to lump such killings into the "what happens in war" category, but it's an obviously blurry line. As you can tell from my description of it, I think it's a fancy way to put legal and ethical lipstick on something that any man on the street would recognize as assassination, plain and simple.
The idea of targeting scientists is not new, though it seems rare. During World War II, the OSS assigned its baseball-player spy, Moe Berg, to observe a lecture given by Werner Heisenberg in Zurich, Switzerland. If anything Heisenberg said at the lecture made Berg think that the Germans were converging on an atomic bomb, Berg was supposed to shoot him. Berg decided not to shoot him. (Bill Tobey of the Belfer Center, whom I've had a few interesting conversations with over the years, recently had an article in the Bulletin on this episode. Bill and I had a long conversation about the Heisenberg "reactor-bomb," as Paul Lawrence Rose calls it, the last time I was in town. Now I see why he was suddenly so interested!)
During the Manhattan Project, General Groves assigned protective security to about half a dozen of its key scientists, and Groves did fear that assassination-as-sabotage was a real possibility. Enrico Fermi got his in 1943, while he was still in Chicago. Laura Fermi recalled later that:
The rules General Groves had set could have been chosen by a wise mother for her teen-age daughter. Enrico was not to walk by himself in the evening, nor was he to drive without escort to the newly built Argonne Laboratory twenty miles from our home.1
The Fermis became good personal friends with their bodyguard, incidentally.
In early 1951, at one of the tenser points in the Cold War, the Atomic Energy Commission weighed seriously the possibility that the Soviet Union might kidnap or assassinate any American nuclear scientists who happened to be in Europe for conferences. As an AEC Division of Security report explained:
It seems almost certain that some areas of Europe, as well as additional areas in Asia, would be overrun at least temporarily if Russia should engage in open aggression, or if Russian satellite countries should become further engaged in open aggression. The [AEC] Division of Security feels, therefore, that definite steps should be taken by the AEC to prevent personnel who have had access to highly classified "restricted data" from visiting areas where they may be subject to personal danger or where information they possess may be subject to compromise from kidnap, deception, or as a result of military aggression.2
Regulations were put in place so that if any person with access to high-level "Restricted Data" were to travel to Europe, the AEC would review the case to see if they were willing to stomach the risk.3
So the idea of assassinating, or kidnapping, nuclear scientists is not new. But did it actually occur during the Cold War? I can't personally think of a single example. Tobey, in the aforementioned article, mentions a few non-nuclear scientist assassination that have occurred in the past: bomb-makers, missile-makers, and even speculation about the death of Gerald Bull, the "supergun" expert. Tobey also brings up the case of Yahia El-Meshad, who led the Iraqi nuclear program in 1980, who was found beaten to death in a Paris hotel room. That doesn't quite sound like Mossad's style to me, but I'm no Mossad expert, and I've never heard of the case before. So maybe there's our only other dead nuclear scientist, our Oppenheimer in the crosshairs.
Does it "work"?
Tobey (and others) seem to think it's a bad policy in part because it probably won't have much effect: nuclear programs are large, responsibilities are diffused, etc. I think this is probably true of a very advanced nuclear program, but I'm not so sure about Iran. Why?
The historians and sociologists of science have been emphasizing for decades now the way in which tactic knowledge and "know-how" are crucial to the development of nuclear programs.4 To this we can add the importance of key nodes in scientific networks as studied by the Actor Network Theory school of thought (most prominently associated with Bruno Latour's work).
And in fact, the role of key, central scientists during the Manhattan Project has been studied quite specifically and extensively.5
While counterfactual history is not in vogue, I don't think it's too much of a stretch to say that if Oppenheimer, Fermi, and Lawrence had been killed in 1943 or 1944, that the Manhattan Project probably wouldn't have had a weapon ready to go by August 1945. These people were repositories of vast amounts of high-level program knowledge, much of which was not written down, and also served as key morale-builders amongst the many thousands of people who worked under them. Removing these central nodes from the network would have been disastrous.
That being said, if you removed them too early (say, 1941 or early 1942), it probably wouldn't have had much effect — others could have taken their place and perhaps done as good as job. (Perhaps, perhaps not — these are not your run-of-the-mill physicists we are talking about, but absolute top experts in their fields.) Removing them in July 1945 probably wouldn't have much effect either — the work was mostly done and inertia would have carried it through. But during the key moments of hard work, the worst moments of the summer of 1944 (when the entire Los Alamos program was reshuffled to deal with the implosion problem)? I think it would have added months and months to the project, if not more time. So timing probably matters. And whether the Iranian scientists in question are such central nodes, or such key figures — I have no idea. But one would have to take this sort of thing into consideration before determining one way or another the likely efficacy of something like this.
Sociologists of science in particular would, I think, endorse the idea that taking out human knowledge from large, difficult scientific projects is probably the most effective thing you could do to disrupt it. It's worse than secrecy, it's worse than sanctions, it's probably even worse than just blowing up facilities or factories. The human beings are the one who make the networks of knowledge work, not the e-mails, not the scientific papers.
So I'm not so sure, a priori, that it need be so ineffective. There's nothing like the violent death of high-level members of a community to disrupt a community, put fear and suspicion into others, and possibly remove considerable amounts of organizational and technical expertise. I'm sure there will be endless studies of this, someday. But I wouldn't dismiss it out of hand, just because the Iranian organization is large. The question is not the organization's size, but its structure: is it centralized, decentralized, or distributed?6 I suspect the answer for most large projects of this sort is "decentralized," as in the diagram above, which means that identifying and removing key nodes could prove fairly disruptive.
Blowback
That doesn't mean it's a good tactic, though.
The Israeli intelligence agencies have a reputation for assassination when it comes to bomb-makers, but usually of the conventional type. Expanding that definition to nuclear engineers seems quite novel. For many reasons, we might consider it a disturbing change of tactics. Even if you believe that Iran is pursuing active nuclear weapons capability (I am in the "latent capability" camp, myself — that is, I think the evidence available publicly, anyway, and the IAEA reports issued, point towards Iran trying to get itself into a state in which its nuclear status is ambiguous, as opposed to a state where it was explicitly fielding nuclear weapons), expanding the realm of tactics pursued to assassination of technical workers seems to push into a territory of "total war" that is unique.
As Avner Cohen asks today in Haaretz, "What if the Iranians start killing scientists?" What if international conferences start becoming bloodbaths? It's the natural next question to ask, and a grim one. The history of car bombing, on which I posted a few weeks ago, is instructive in this case. Once a novel and disruptive form of "underground" warfare starts, it's quickly  moved around to other places, adopted by other people — especially if it is effective. There's risk for significant blowback.7
Relatedly, in 1951 the AEC worried that a conference hosted by Niels Bohr in Copenhagen could be a serious security risk for its program. The topic was just quantum physics — nothing too scary there — but nearly two dozen people with Q-clearances were invited. What if, the AEC debated, the Soviets attacked or kidnapped the scientists? How much of the sum of the AEC program was held in the heads of those scientists? How much of an effect would that have in 1951? They eventually decided that if too many, or too important, scientists tried to go, they would have the State Department revoke their visas. They themselves recognized this as an extreme measure — and I don't think it came to pass — but the fear was a real one.
Scientists have usually been exempt from this kind of targeting. Why? Is it because we believe, Merton-style, that there needs to be some kind of firm line between the disinterested investigators and the uses of their work? When the scientist does the work of their country, do we not relate to it as understandable (perhaps even laudable) patriotism, or at least self-interest? I'm not sure why the line is there, but the idea that the nuclear scientist is somehow "above" the actions of their state is a common one, with some exceptions (Edward Teller, for example, gets a lot of the Cold War blamed on him, though this is in part because he crossed the line between scientist and political advocate).
I agree with Cohen that the dangers of crossing this invisible, never-really-paid-much-attention-to line may be worse than any non-proliferation benefits achieved by it — and is pretty disturbing. What happens if magnetic bombs start going off around Los Alamos and Livermore? If I were a nuclear weapons scientist, I would be petitioning my government to thoroughly denounce this sort of activity. I wouldn't want to find myself in the crosshairs, some decades down the line.
Notes