My favorite photographer of J. Robert Oppenheimer is Ulli Steltzer. She's a Canadian photographer of some renown, and took many of the late photographs of Oppenheimer in the early 1960s that grace many of his biographies. I had inadvertently used one of her photographs — a whole set of them, actually, in the form of a contact sheet or proof sheet1 — while designing the poster for the Oppenheimer centennial conference at the University of California, Berkeley, in 2004 (just before I went off to grad school). I had found a photocopy of the contact sheet in Frank Oppenheimer's papers at the Bancroft Library and was just immediately taken with its symbolism: every bomb historian has their own J. Robert Oppenheimer, slightly different.2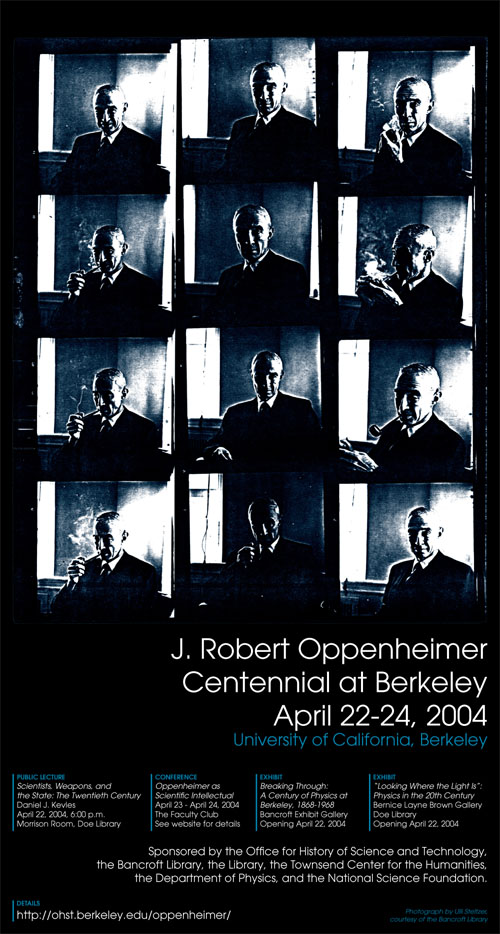 The quality of the photocopy isn't as good as the original, but I like the stark contrast it created. It also worked well with the color process (the whole poster is just black, white, and blueish) that we used.3 Only much later did I figure out that the photographer was Steltzer. She was kind enough to ship me a darkroom reproduction of the original contact sheet, which is stunningly beautiful.
Over e-mail, I asked Ulli about her sessions with Oppenheimer. This was her response to me:
I am glad you like the proof sheet. It is one of several, though I only took O.'s picture four times. The first time I was so exited, that all the pictures were out of focus. Your proof sheet is from the second time. He was shy of the camera and I never got more than 12 shots. It is hard to say which expression is most typical. Priscilla chose a very different picture from Kai Bird. And I have one of the friendly ones here, with the pipe and a smile. Was he an easy or difficult guy to photograph? He asked me to come and take the pictures at different times and occasions, but I never stayed longer than 8 or 10 minutes because he would soon say that it was enough. ... When you say "anything you could remember would be appreciated".....I could not write a book, but I do have many profound memories of conversations with Oppenheimer, enough to justify any expression of his that I was able to catch on film. A man of his depth and complexity can not be easily portrayed in one frame. This is why I can truly appreciate your wanting the proof sheet.4
I thought the portions I've bolded above were pretty interesting. I like the idea that someone of Oppenheimer's richness — sometimes one thing, sometimes another — defies the static notion of the photograph, and perhaps a static notion of a narrative character. Sometimes he's smiling at you, elfin, almost winking. Sometimes he's brooding and dark. Sometimes he looks the haunted martyr, sometimes he looks proud. All within the span of 10 minutes or so.
Notes