I woke up this morning to find that NUKEMAP had hit well over one million "detonations."
Remember when I was very impressed that I had 1,500 detonations? Yeesh.
These have been spread over about 190,000 unique visitors. The average of ~5 "detonations" per visitor has held pretty solidly over the last week.
Here are some visualizations I threw together showing where those million-and-change detonations fell. Each of the dots has an opacity of only 25%, so when they look bright red, that means they're being stacked on top of each other. I've also thrown out any perfectly redundant data, so nuking the exact same spot repeatedly doesn't change how it is rendered.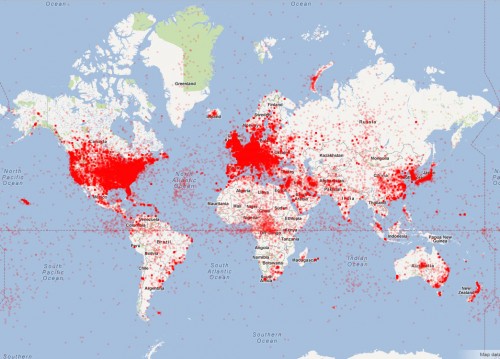 Click the image to zoom in. For details of various regions, click here: the USA, Europe, Asia and the Middle East, South America and Africa, and Oceania.
I will be soon writing up a somewhat formal analysis of this data, and other feedback I've gotten as to how NUKEMAP was used, talked about, spread around, and so on. I'll let you know when it's up.
Until then, Tom Lehrer will serve as analysis-by-proxy:
After the jump is a brief NUKEMAP FAQ of sorts, based on various blog comments, forum posts, news stories, and so on that I've seen on this.
Update: It's only 2/26 (three days after I wrote the above) and we're already at the second million. If I had a nickel for every Tsar Bomba dropped… well, I'd have about $25,000. Update: NUKEMAP hit three million around 3/6. Update: NUKEMAP hit four million sometime around 4/12. Update: NUKEMAP hit five million sometime around 7/12. Update: NUKEMAP hit six million detonations on 8/27 (another round on Reddit). Update: NUKEMAP hit seven million detonations on 10/22 (Reddit, again). Update: NUKEMAP hit eight million around 10/29 (tail end of that Reddit traffic). Update: Nine million around 12/22/12 (Reddit again).
I've written up an analysis of 4.3 million "detonations" and their locations for the online journal WMD Junction. Check it out.
The brief NUKEMAP FAQ of sorts:
This doesn't take into account terrain or fallout or height of detonation or …  Yeah, I know it. It isn't meant to be a rigorous simulator with fifty variables. Those things are out there in the world if you're looking for them. This isn't that. Sorry. (Hand-wavy fallout plumes will be added in the next big update, but those aren't going to satisfy experts, either.)
Is this meant to be a game? No. "Game" is entirely the wrong word. "Toy" is probably closer to what is meant when people say "game," and it's not quite what I thought I was designing either, but so be it. I like to believe that a little bit of education is leaking through, even if a lot of the usage is just "for kicks."1
Is this meant to be pro-Iran, anti-Iran, pro-Israel, anti-Israel…? None of the above! Sorry, I didn't make this with the intention of pushing any particular political position. Of course, people will read into it what they want, what they think it means with regards to the nuclear issues of the day. But I didn't make it to push any particularly partisan point of view. Now, that might seem rather naive, but my general position is that the effects of nuclear weapons can be interpreted through a multitude of political lenses. The hawks and the doves come together on their interest in nuclear effects — they just read the meaning of them very differently.
This isn't new, there are others on the Internet who have done similar things… I tried to give credit in my original NUKEMAP post to the other simulators out there. Frankly, even those are just the latest iterations in a pretty old genre. I'm not claiming to have re-invented the wheel here, and I've been as surprised as you are to see this sent around to so many people. I think we can conclude from this that a significant number of people out there hadn't seen the other simulators. Anyway, it's not a contest. (As of this writing, I've not made a single cent off of NUKEMAP, so there's no need to feel that there's too much at stake in the "priority" department.)
Are you really as macabre/insensitive sounding as you come off? In the earliest publicity about it, I hadn't really considered that it would end up being such a big deal. So I probably would have chosen my words a little more carefully. My enthusiasm for the tool should not be confused with an enthusiasm for the bomb. One is a little script I banged together over the course of a few days, the other is a massive historical and present issue. That being said, there's a long history of using dark humor to talk about nuclear weapons. I'm not trying to trivialize their effects — much to the contrary, I'm trying to communicate them and make them feel "real." Again, I hope a little education leaks through.
Why'd you list bomb X or city Y…? I tried to pick a number of "major targets" and a number of historically and presently interesting yields. There is no rigorous methodology behind it. I put Washington, D.C., first on the list not because I dislike the city, but because I live there. (I live within 4 kt of the U.S. Capitol building, so I'm sensitive to these things.)
It doesn't work on my computer.  It seems a very small minority of folks can't get it to work. Leave me a note with what browser and operating system you're using and I'll see if there's anything I can do about it. The odds are it's not my code but Google's that is incompatible. But I'll do what I can.
Wait, who are you, again? Some of the news accounts have garbled up my personal information, but I'm an historian of science who has a Ph.D. from Harvard and who currently works at the American Institute of Physics (a professional organization for American physicists) near Washington, D.C. I'm not a physicist, though I sometimes am labeled one on the Internet. NUKEMAP emerged out of teaching exercises I developed while teaching at Harvard and MIT, but I don't teach anywhere at the moment. I study the history of nuclear weapons, and am finishing a book on the history of nuclear secrecy policies in the United States. This is my blog.
Notes