There's a time-honored tradition of using scary posters to remind your employees that dire and deadly consequences will follow from their indiscretions. Creating an aura of "security consciousness" has been the goal, and during World War II in particular, posters of the "Loose Lips Sink Ships" variety were produced by the metric ton.
My favorite World War II secrecy poster is one that I haven't seen much online, but is sold as a postcard at the National Archives at College Park: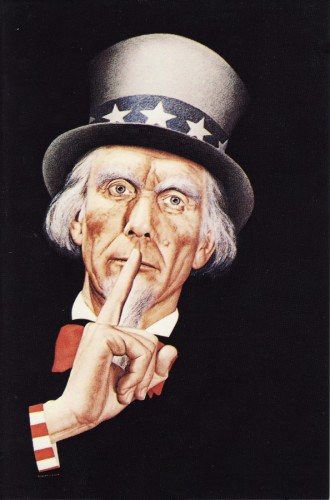 This one was created by Robert S. Sloan, who did a number of American propaganda posters during World War II. I love its starkness and simplicity, and its darkly ominous quality. It's also a beautiful inversion of the standard James Montgomery Flagg poster from 1917 — it is still focused on Uncle Sam and his index finger, but instead of saying that he wants you, he's saying, shhhhh. It's a symbolic, perhaps, of the way in which technical secrecy becomes predominant in World War II, as the reliance on new weapons becomes more standardized, and the number of civilian contractors involved in war production went up considerably.