Since I've already been engaged in some Oak Ridgery earlier in the week, I thought I might continue the trend. This week's document is the transcript of a press conference given by Secretary of War Robert P. Patterson and General Leslie R. Groves at Oak Ridge on September 29, 1945.1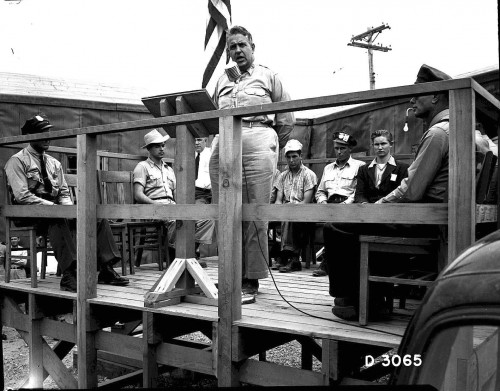 It's one of the few press conferences that Groves gave during this time, one of the few times early on in which he actually made personal appearances with the press, as opposed to his more carefully-constructed, only-by-paper publicity campaigns.2
It's a fascinating exchange between the press and the deacons of secrecy, at the secret city itself.
Question: "What is the Army's position on the release of the secret?"
Patterson: "I am not in a position to say that. A decision as to policy is to be made by the President and is to be made very shortly and I prefer not to say anything about that, but you won't have to wait long."
You won't have to wait long. One wonders what this refers to. Truman did issue various requests for the secret to be "kept" around about this time, as a temporary measure. The Attlee-Truman-King statement was issued in November, which had a very ambiguous take on the question of secrecy (see section 6 in particular, which suggests short-term secrecy is important, but that long-term secrecy is ineffective), and then there is the entire Baruch plan debacle.
Question: "How many people actually knew what you were doing?"
Patterson: "I don't think anyone could answer that question."
Question: "Less than 100?"
Patterson: "I would say more than that but that would be pure speculation."
"Actually knew what you were doing" refers, presumably, to the fact that the end goal was making an atomic bomb. It's quite a bit more than 100 (if you include, for example, the weapons designers at Los Alamos), but it's an interesting list to consider. I've played with creating a table of "who knew" myself; it has some interesting parts of it (Vice President Harry Truman: did not know. Soviet Premier Josef Stalin: did know. Most workers at Oak Ridge and Hanford: did not know. Most members of Congress: did not know.) but  never quite did enough to justify an entire table.
Question: "Is there anything to the rumor that you are making a super bomb that would make the Nagasaki bomb look small?"
Patterson: "I don't know."
Groves: "I don't think the Nagasaki bomb was made obsolete. That bomb could never be made obsolete. Those we used are pretty super." [last sentence hand-written] …
Question: "Is there such a thing being planned as a super bomb?"
Groves: "No, I don't think so. They talk about airplanes that will go around the world, etcetera. This thing has just started and no one knows just what will develop."
This is, as far as I know, the first published reference to a rumor of a possible "Super" bomb, the hydrogen bomb, in the public domain — as early as September 1945! Note how sneaky Groves is in the first instance. He doesn't deny anything, he doesn't confirm anything. He's evasive but in a way that doesn't actually give anything away. He's right, of course, that no matter how you slice it, 20 kilotons is going to be a pretty big bang. His second statement is more dishonest; he knew that there was a "Super" bomb being contemplated.
Question: "In that connection what were the results of the official investigation on the radioactivity of Hiroshima after the explosion of the bomb?"
Groves: "There has been nothing official released in the sense of a War Department release but there has been a definite statement by General Farrell who inspected the actual site with competent persons to assist him and to render the decision that there has been none of this prolonged radioactivity that the Japanese mentioned. No one, as far as we know, has incurred any injury after the first bomb."
There's a lively debate in the historical literature about what Groves et al. did and did not know about the radiation effects of the bombs. Groves was intensely suspicious of Japanese reports and thought they were just propaganda against the Allies. He was also profoundly offended by news reports that claimed Hiroshima and Nagasaki would be uninhabitable for generations. His own scientist advisers, like Oppenheimer, had assured him that detonating the bombs at a high altitude would prevent any long-term radiation, and that anyone within the radii of the short-term, prompt radiation would more likely die of the other effects first. But the reality was more complicated than that.
The best you can say for Groves is that at this point, there was considerable scientific uncertainty about the realities of the radiation claims, and he chose to interpret that in a way that made the bombs seem less monstrous. Some go much further in interpreting Groves as perpetuating a cover-up — I don't see it as quite as clean-cut as that. In any case, Groves did send over teams to start what became the Atomic Bomb Casualty Commission, but it wasn't until October 1945 that the really go up and running. (The Japanese had themselves been studying the question earlier, but the American teams looked upon their data with suspicion.)3
Question: "Are there any other countries who know how to split atoms?"
Patterson: "The opinion of the scientists is more valuable on that than mine. They say that the main principles are well known to scientists all over the world."
Question: "Does that mean the only secret we have left is how to process it?"
Patterson: "I don't know."
Interesting back-and-forth here about the identity of "the secret," if there was one at all. The idea that there was a single "secret," or any secret at all, was under a lot of scrutiny at this point.
Question: "Regardless of what policy is established, is there any reason why the atomic bomb project cannot be kept as one fo the War Department functions?"
Patterson: "There is no reason. It is possible under legislation and the form of control that the legislation may set up, that it may be committed to the War Department or the Corps of Engineers for operation."
Question: "In the opinion of the Cabinet, is it unanimous on the future of the bomb or is it divided? I was thinking of Wallace in particular."
Patterson: "I cannot answer that."
Both of these questions are quite astute; one is wondering about the postwar domestic control (the May-Johnson Act had not yet been introduced, and so it was completely unclear what the character would be), the other is asking about dissidence in the Truman cabinet. On the first part, the War Department itself was in the process of sponsoring a law that would remove it from their primary responsibility (but still give them some influence). On the second part, Truman's Secretary of Commerce, Henry A. Wallace (Roosevelt's former VP, the one that he let in on the bomb), was indeed at ends with Truman and other cabinet members about the bomb. He would eventually lose his job over his view on the confrontation with the USSR.
What all of this adds up to, for me,  is a mediation on the precarious state of information control in the immediate postwar. Groves avoided press conferences of this sort, and for good reason. During the war, Groves had a reasonably efficient — though not totally air-tight — ability to control information about the bomb. In the postwar, this was not the case — here he is, at his first (?) press conference, getting grilled about two very sensitive subjects: the hydrogen bomb (!!), and the question of radiation at Hiroshima. It was an early sign of things to come, as the press eagerly worked to make up lost time from the years of voluntary censorship.
Notes
The photo of Groves is actually from Hanford; I couldn't find any of him giving talks at Oak Ridge. Photo is from the Hanford DDRS database, item N1D0029056. [↩]
Transcript, "Press Conference — Secretary of War Robert P. Patterson — Clinton Engineer Works," (29 September 1945), National Archives and Records Administration, available online through their ARC website under the identifier 281581. [↩]
M. Susan Lindee, Suffering Made Real: American Science and the Survivors at Hiroshima (Chicago, Ill.: University of Chicago Press, 1994), chapter 1. [↩]