On November 1, 1952, the United States detonated the world's first hydrogen bomb.1 Shot MIKE of Operation Ivy was the culmination of nearly a decade of work on developing thermonuclear weapons, and it released an explosive force equivalent to 10.4 million tons of TNT — some 800 times the explosive force of Hiroshima, capable of setting fire to an area of over a thousand square miles.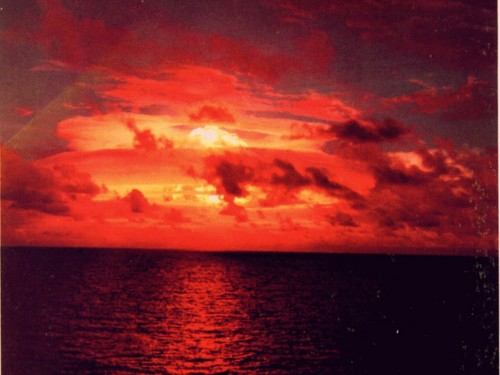 The world had entered the megaton age, but the United States didn't want anybody to know about it.
Which is an odd thing, if you think about it. It's true, the first atomic bomb test — "Trinity" — had been kept a secret at the time. But only because the U.S. planned to use it on Japan quickly and wanted it to be a surprise. There was no "operational" reason for keeping the MIKE test a secret, except for the fact that, well, it wasn't actually really ready for prime-time, as far as weapons went. MIKE was a big, clunky cryogenic test apparatus that weighed over 50 tons. It had been designed (by Dick Garwin) to prove a point, not to fit on an airplane. They did manage to scale it down a bit as five "Emergency Capability" weapons (the "Jughead" bombs), but these required specialized plane modifications to field (and only one plane was so modified), and even then, one wonders how reliable they were considered. (And even these weren't produced until 1954, shortly before the U.S. developed more easily weaponized solid-fuel hydrogen bombs.)
Still, one might ask again why the U.S. tried to keep it secret, and from whom. The thing is, keeping it secret from the USSR just wasn't an option: when you set off 10 megatons in the Pacific Ocean, people are going to notice. Now, it's true that the Soviets later claimed that they botched their fallout monitoring program at that stage of things (and thus apparently were unable to analyze the MIKE fallout to the degree that would have revealed fundamental design information, thus saving Soviet dignity when they came up with the same idea independently!),2 but it's clear that they were aware that something big had happened in the Pacific Ocean. And the only thing that big would have been an H-bomb.
The secrecy of the H-bomb has long been an interest of mine, because it was instituted so early (Truman put the AEC under a "gag" on discussing H-bomb topics in 1950, which they struggled to get reversed), and persisted for a relatively long time (the US didn't officially admit to having H-bombs until 1954, after the Castle BRAVO accident) despite the weighty subject matter. Information on the Ivy Mike shot wasn't released until nearly two years after it was detonated, which is a long time to try and keep something that big secret!
Who were they trying to keep it from? Well, everybody. The timing and circumstances of MIKE were not politically ideal. It was detonated just days before the 1952 Presidential election, and there was considerable question to whether it should be delayed until after the election took place. In the end it was decided that delaying it would be a politically tricky thing, so they just went ahead with it when they were ready. Truman didn't make it a political issue, though he easily could have. When President-elect Eisenhower was briefed on it, he was relieved that the AEC hadn't told anybody, because he didn't want to tip off the Russians to anything whatsoever.3 All that was immediately let out was a terse statement that admitted that the test series "the test program included experiments contributing to thermonuclear weapons research" — the same thing they had said after Operation Greenhouse. From that point until the Operation Castle debacle it just never seemed like the right time to say anything.
Of course, as I said, you can't really keep something that large truly secret. And indeed — Ivy MIKE leaked almost immediately. Thus we turn to this week's document, a series of AEC correspondence by Morris Salisbury, their public relations officer, Gordon Dean, the Chairman of the Atomic Energy Commission, and J. Edgar Hoover, infamous head of the FBI.4
Only a few hours after the first H-bomb detonation, the AEC public relations man got a call from someone at the Department of Defense who had got off the phone with Clay Blair, Jr., at Life magazine wanting to confirm that the US had indeed just detonated a hydrogen bomb. Just prior to that, they had gotten another phone call from Time magazine:
Hobbing [Time]: Is this the big day?
Thompson [AEC]: Why don't you tell me? What are you talking about?
Hobbing: We understand that the H-bomb has just been set off.
Thompson: We have a standard policy of no comment about weapons tests. We haven't anything to say in that field.
Hobbing: Aren't you getting out a release, don't you usually issue releases after you have made a shot?
Thompson: We have at times issued releases or statements after a shot in Nevada. We have never followed such procedure on tests at Eniwetok.
Hobbing: Don't you have any releases coming out there this afternoon?
Thompson: I don't know offhand. I'll have to check.
Hobbing: I mean about H-bombs.
Thompson: No.
A not entirely compelling performance on behalf of the AEC representative, there. Dean opted to have the FBI try and track down the source of the leak — the exact place and time of the shot was considered extremely sensitive information (because it would help the Soviets reconstruct information from the fallout), and the fact that it involved an H-bomb at all meant that it was "restricted data" (the unauthorized dissemination of which could even carry the death penalty).
Over the course of the week the story made its way into the press — and the AEC's secrecy on the issue itself became a main part of the story.
"The United States may be keeping secret an explosion of the world's first full-scale hydrogen bomb." (L.A. Times, November 7, 1952)
" 'No Comment' was the only reply from the commission to inquiries based on an H-bomb story story in a Los Angeles newspaper today." (L.A. Times, November 9, 1952)
Finally the AEC release the terse statement I mentioned earlier, which, when paired with the rumors, and several "first-hand accounts" made the H-bomb test a fairly "open secret."
It's still worth wondering, why try to keep it so secret? I mean, as we've seen from the film (released later), Operation Ivy was no small affair. (Interestingly, and this was news to me, an Air Force pilot actually died while taking fallout samples. Not from the radiation, mind you, but because he ran out of fuel and crashed the plane.5 This is the only acute, immediate death I've ever heard of during a U.S. nuclear test. Are there more?) Over 2,500 people were present at the test site, and the bomb itself was pretty conspicuous. As far as I know, nobody was ever charged with "leaking" the news about the MIKE shot.
A short version is to say that by this point, the AEC was taking all of its guidance on public releases relating to the H-bomb from the National Security Council, who saw no benefit to transparency. There's more to this story, but we'll leave it at that for now.
A few parting observations:
In all of the news coverage, notice that it is the AEC who gets the blame for the secrecy. This isn't exactly true — the "no comment on the H-bomb" policy had been decided before the shot by the National Security Council, and the post-shot silence was dictated by both Truman and Eisenhower. But the very secrecy of the matter obscures the source of the secrecy.
In a sense, one could see the U.S. as participating in a form of "strategic opacity" regarding its possession or non-possession of a hydrogen bomb between 1952 and 1954. Like Israel today, the U.S. then derived some advantage from its vagueness — if everyone "knew" that the U.S. had an H-bomb, but the U.S. didn't announce it, it could help avoid troublesome international issues (like criticism from allied countries who decried the H-bomb effort) while also avoiding several acute strategic weaknesses (like the fact that their "H-bomb" was not yet really a deliverable military weapon).
On the other hand, the H-bomb issue as a whole was one of the real turning points with respects to the AEC and the press. It was in the 1950s that the AEC's relationship with the press soured in a bad way, and when it got its most fearsome reputation as an agent of censorship and an enemy of disclosure. Some of this was deserved, but some of this was not. As pointed out, a lot of that secrecy didn't derive from the AEC at all, but other sources of power it was beholden to.
Ultimately, like so much regarding the hydrogen bomb (more on this in a future post), one has to wonder what it all added up to. The AEC was already in a pretty prime strategic relationship with regards to the arms race, and it didn't have any great reason to assume otherwise. I don't think it got them very much to be secretive, but I do think it hurt them. Then again, it wasn't entirely up to them what was secret and what wasn't — a case of "gambling with other people's money," or, more correctly, "gambling with other agency's reputations," on behalf of the NSC.
Notes