Some sage advice, plucked from the archive, to brighten your Monday morning.
I was poking around DOE's OpenNet site last week, as I am wont to do, and I stumbled across a fair number of documents from 1959 labeled as a "Special Weapons Retrofit Orders."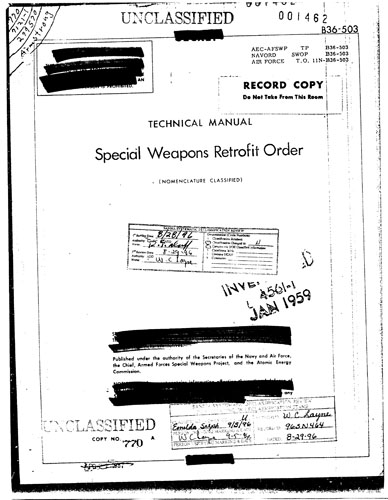 These are basically instructions on how to make some sort of mechanical changes. So on this one, for example, the part that needs alteration is a caster — that is, a wheel: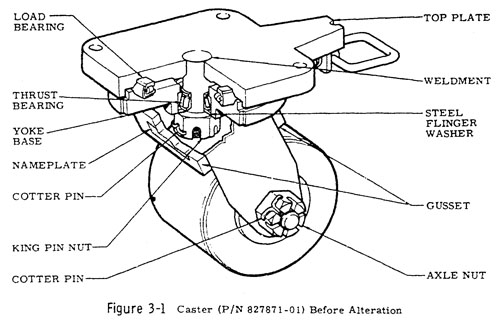 Pretty run of the mill... until you see that the caster is mounted to a 10 megaton H-bomb. (That's what the "special" is meant to tell you.)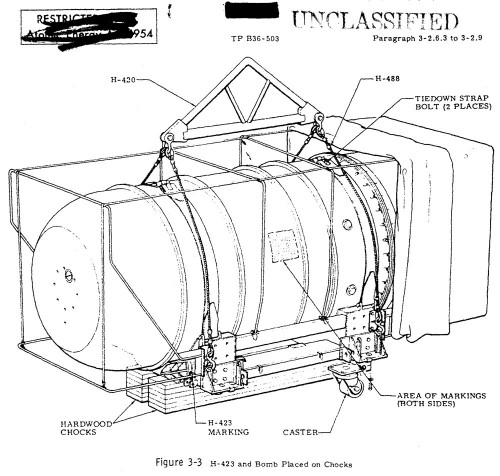 ...all of which makes it a bit more surreal. (That's a Mark 21/Mark 36 casing there, for those who are keeping track at home.) I can see the importance of fixing these things — imagine if you were the one stuck with the H-bomb that had a squeaky wheel, or one that was always pulling to the right. That kind of thing gets sooo annoying.
But also, check out the "safety precautions":
Be sure that no open flame, lighted cigarette, or other spark potential is present when the bomb is uncovered and opened or when cleaning and/or stenciling operations are being performed.
Don't smoke near the H-bomb, please... it's bad for your health. Also, always remember to wear rubber gloves.
Tags: 1950s, Bad ideas, H-bomb, Special