Nuclear fallout is an incredible thing. As if the initial, prompt effects of a nuclear bomb weren't bad enough — take that and then spread out a plume of radioactive contamination. The Castle BRAVO accident was the event that really brought this to the public forefront. I mean, the initial effects of 15 megaton explosion are pretty stunning in and of themselves: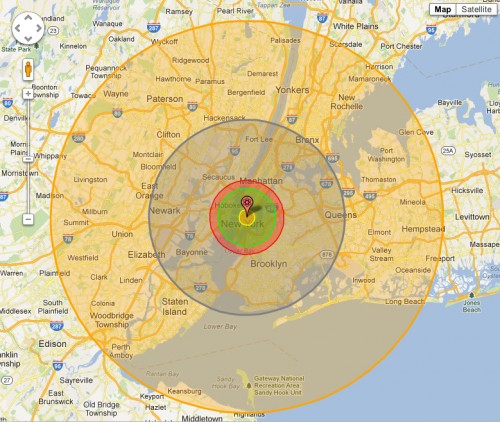 But the fallout plume extended for hundreds of miles:
Superimposed on an unfamiliar atoll, it's hard to get a sense of how long that plume is. Put it on the American Northeast, though, and it's pretty, well, awesome, in the original sense of the word:
And remember... that's just a single bomb!
Of course, if you're interested in the more diffuse amounts of radioactivity — more than just the stuff that you know is probably bad for you — the fallout maps get even more interesting. Here's what the BRAVO fallout did over the next month or so after the detonation:1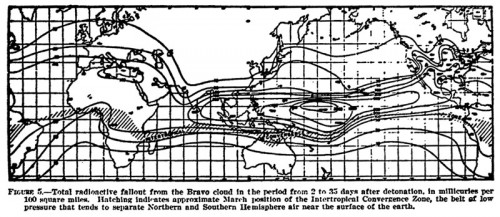 Now, you can't see the numbers there, but they aren't high — it's not the same as being immediately downwind of these things. They're low numbers... but they're non-zero. But one of the "special" things about nuclear contaminants is that you can track them for a very long time, and see exactly how one test — or accident — in a remote area is intimately connected to the entire rest of the planet. 
And, in fact, nearly everyone born during the era of atmospheric nuclear testing had some tiny bits of fallout in their bones — you can even use it to determine how old a set of teeth are, to a very high degree of accuracy, by measuring their fallout content. (And before you think atmospheric testing is a matter of ancient history, remember that France and China both tested atmospheric nuclear weapons long after the Limited Test Ban Treaty! The last atmospheric test, by China, was in 1980!)
The same sorts of maps are used to show the dispersion of radioactive byproducts of nuclear reactors when accidents occur. I find these things sort of hypnotizing. Here are four "frames" from a simulation run by Lawrence Livermore National Laboratory on their ARAC computer showing the dispersion of radioactivity after the Chernobyl accident in 1986:2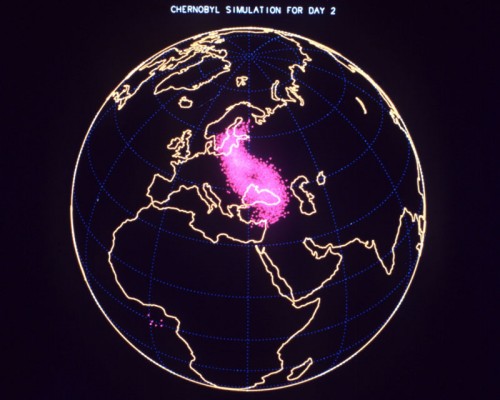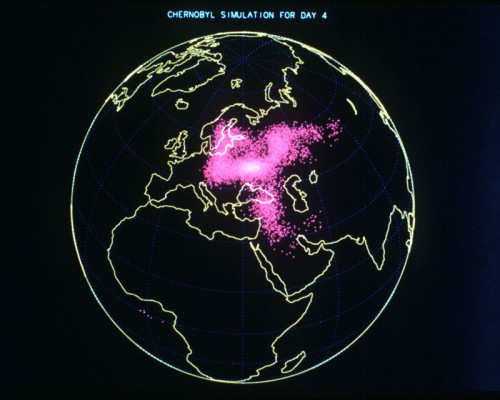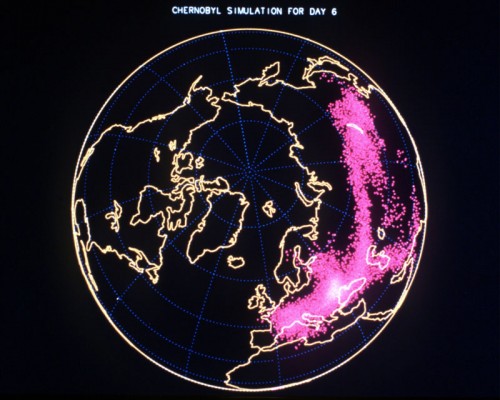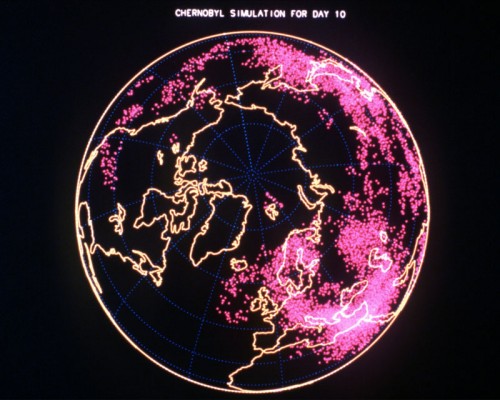 Pretty incredible, no? Now, the odds are that there are lots of other contaminants that, could we track them, would show similar world-wide effects. Nuclear may not be unique in the fact that it has global reach — though the concentrations of radioactivity are far higher than you'd find anywhere else — but it may be unique that you can always measure it. 
Yesterday I saw a new set of plots predicting the dispersion of Caesium-137 after the Fukushima accident from 2011. These are just models, not based on measurements; and all models have their issues, as the modelers at the Centre d'Enseignement et de Recherche en Environnement Atmosphérique (CEREA) who produced these plots acknowledge.
Here is their map for Cs-137 deposition after Fukushima. I'm not sure what the numbers really mean, health-wise, but the long reach of the accident is dramatic:
Compare with Chernobyl. (Warning: the scales of these two images are different, so the colors don't map onto the same values. This is kind of annoying and makes it hard to compare them, though it illustrates well the local effects of Chernobyl as compared to Fukushima.)
Lastly, they have an amazing animated map showing the plume as it expands across the Pacific. It's about 5MB in size, and a Flash SWF, so I'm just going to link to it here. But you must check it out — it's hypnotic, strangely beautiful, and disturbing. Here is a very stop-motion GIF version derived from their map, just to give you an incentive to see the real thing, which is much more impressive:

There's plenty of fallout for everyone — well enough to go around. No need to be stingy. And nearly seven decades into the nuclear age, there's a little bit of fallout in everyone, too.
Update: The CEREA site seems to be struggling a bit. Here's a locally-hosted version of the full animation. I'll remove this when CEREA gets up and running again...
Notes
Image from "Nature of Radioactive Fall-Out and Its Effects on Man, Part 1," Hearings of the Joint Committee on Atomic Energy, Special Joint Subcommittee on Radiation (May 27-29 and June 3, 1957), on 169. [↩]
These images are courtesy of the DOE Digital Archive. [↩]