Since my post last week was such a bummer, I thought I'd do something a little more fun and trivial today.
The International Atomic Energy Agency (IAEA) has, without much competition, the coolest logo of any part of the UN.1 Heck, I'll go so far as to say that they have the coolest logo of any atomic-energy organization in history. I mean, check this thing out:
It's not only an atom, it's an atom with style. It's got a classic late-1950s/early-1960s asymmetrical, jaunty swagger. Those electrons are swinging, baby! This is an atom for love, not war, if you dig what I'm saying. An atom that knows how to have fun, even when it's doing serious business, like investigating your nuclear program. The James Bond of atoms.
The staid seal of the US Atomic Energy Commission cannot really compete for hipness, though it gets major nostalgia points and I love it dearly. The emblem of the Atomic Energy Organization of Iran is arguably the only real runner-up — check out that minimalism! Most worldwide atomic energy organizations/commissions have variously tacky rip-offs of the original AEC logo. The UK's Atomic Energy Authority gets props for having the least cool emblem of any atomic energy agency, and also the least obviously atomic (the little sun at the top, and the Latin, somewhat give it away). On the other hand, it's the only one that looks like it would be perfectly at home inside a Lewis Carroll book.
For awhile, I've been kind of obsessed with finding out who drew this thing. It looks remarkably similar to the aesthetic adopted by the Swiss designer Erik Nitsche, who did a lot of other groovy atomic posters for General Dynamics. This poster of Nitsche's from 1955 has similarly jaunty orbitals, though I don't think they're meant to be electrons: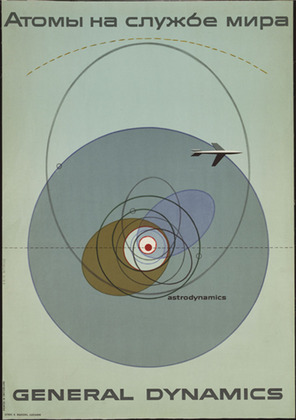 But upon further investigation, I've not found any evidence that Nitsche was involved, sadly. In fact, all signs point to an anonymous staffer in the US State Department, but the story is a bit more fun than just that.
The IAEA was founded  in 1957 as the UN organization that would try to enact the "Atoms for Peace" plans of the Eisenhower administration. It wasn't yet the nuclear watchdog organization; that came later, with the Nuclear Non-Proliferation Treaty. Its first head was W. Sterling Cole, a former US Congressman who had been a member of the Joint Committee on Atomic Energy. From pretty much the very beginning, the IAEA started using a little atomic logo on its letterhead:

The first instance of this I've found is the above, dated July 1957 (though the document was published in August), which is the same time as the IAEA came into being, more or less. By October 1957 they were using a white-on-black approach but it was basically the same thing. An internal IAEA history chalks its creation up to someone within the US State Department or the US Atomic Energy Commission — which is another way of saying, they have no real idea, except that it seems to have come from America. Fair enough, I suppose, though looking at what the Atomic Energy Commission's own stab at an "Atoms for Peace" logo, I find it really unlikely that they had anything to do with it: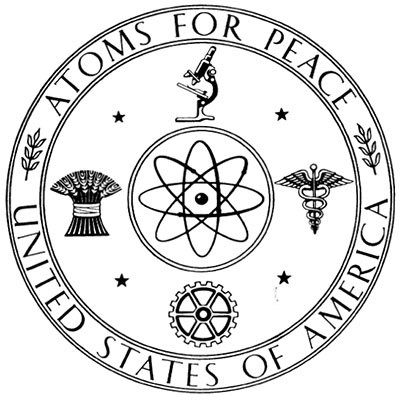 It's a pretty different aesthetic: that staid AEC atom (perfectly symmetrical), plus a dog's breakfast of other generic symbols (microscope! medicine! a gear! wheat!). It's a lousy emblem — it's messy, it's generic, and it has finicky details that wouldn't reproduce well at a small size, which means that it always looks too big.
Anyway, the first IAEA logo, as you can see, was a somewhat informal thing — it's not as stylized, and its lines aren't very confident, but the essence of the final emblem is there, hidden within it. It doesn't have little dots for electrons, and the asymmetry looks only somewhat intentional. They used this up until 1958 without anybody raising any fuss, and without formally adopting it.
But at some point in 1958, someone with just enough education to be dangerous noticed that their little peaceful atom had three electrons. What element has three electrons, typically? Lithium. What's lithium most associated with, in the area of atomic energy? Hydrogen bombs. Lithium deuteride is the main fusion fuel in hydrogen bombs. When the lithium nucleus absorbs a neutron, it turns into tritium and helium. Tritium and deuterium readily fuse. It's a nice little reaction — if you're a weapon designer. If you're an "Atoms for Peace" agency, it's a little more problematic. So someone — again, nobody seems to know who — flipped about this. An easy fix was proposed: add another electron! Then it's no longer lithium… it's beryllium. Let's all collectively ignore the fact that beryllium is also used in nuclear weapons, and is also fiendishly toxic, to boot. If they'd just added one more orbital, it would have made boron, which is a neutron absorber that keeps you from getting irradiated — a little more on target, but nobody asked me.
You can see the extra orbital somewhat crudely added to the original emblem in this backdrop at the Second Annual General Conference of the IAEA, from 1958:
They've also added little dots for the electrons, too. The version above is somewhat wildly, problematically asymmetrical — the orbitals don't intersect well in the upper-left corner at all.
Once they started messing with it, though, things got a little out of control. Why stop with just another electron? Now here's the part where I can clearly see an American governmental influence… they started mucking it up. To quote from that IAEA internal history I referenced before:
Once the process of altering the emblem had started, further suggestions were made and soon a design evolved in which the central circle had been expanded into a global map of the world and five of the eight loops formed by the ellipses contained respectively: a dove of peace with an olive branch; a factory with smoking chimneys and surcharged with a train of three gear wheels; a microscope; two spears of grain; and finally a caduceus, to symbolise respectively the peaceful, industrial, research, agricultural and medicinal uses of atomic energy.2
If that isn't the most god-awful design-by-committee creation, what is? Another fun fact: they made it gold.
I'd love to show you a version of that one, but I can't find a copy of it. It sounds wonderfully awful. The helpful folks at the IAEA archive have been unable to track down a drawing of it — at least, within as much energy as they are willing to expend on such a folly, which is understandably limited. I've gone over every image I could find from the time period looking for a picture of it. No dice. But, just to have some fun, here is a "creative interpretation" of the above, which I have myself drawn up for you: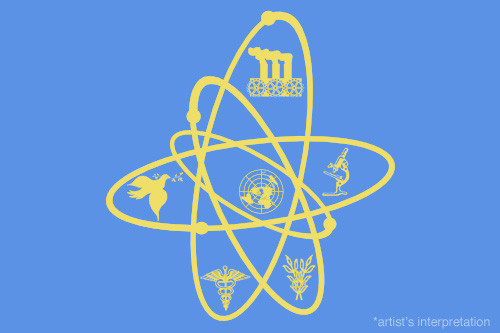 Ah, but they didn't stop there. Cole, the IAEA Director General, apparently enjoyed this enough that he had the new emblem printed in gold on a blue flag, and put it up above the United Nations flag outside of the Third General Conference of the IAEA in 1959.
Apparently in UN-world, this was seen as a major scandal. A representative of the UN Secretary General, Dag Hammarskjöld, saw it, flipped out, and had it immediately removed. And it was never seen again. 
Shortly after this flap, it was decided that perhaps they ought to have a formal procedure before creating their emblem. They rolled back all of the modifications except the extra orbital, and cleaned up the layout a bit, and added a set of olive leaves to match the UN flag. On April 1, 1960, this finalized emblem was adopted by the IAEA Board of Governors, in a document that the IAEA archives folks were willing to dig up for me and post online: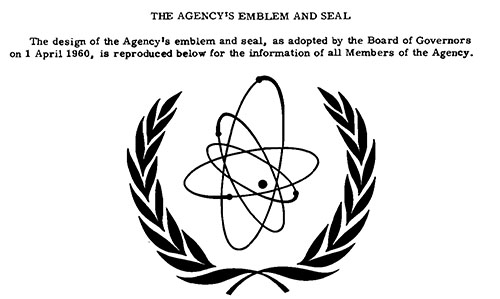 As with all things, we're left with the final product and generally no indication that there was a process to get to it. But, as with all things, there is a process: there is a history. Emblems don't just pop out of nowhere fully formed, just as institutions, organizations, and policies always have to follow a messy path when coming into existence. The emblem, aside from being a piece of natty graphic design, is one of those typical organizational by-products. Somebody started drawing it, not knowing what it was, and they'll continue drawing it forever just because… with a slight detour to make it especially ugly after having found a conceptual problem in their original, ad hoc, implementation.
Anyone who has dabbled in graphic design will also recognize this process. You start with half an idea, one imbued with a germ of goodness inside it, somewhere. You try to elaborate on the idea, inevitably making things worse temporarily  Finally, scaling things back, you return to the original, and find that beautiful thing that was hiding in it all along, just out of sight. The snazzy, modern emblem wasn't achieved on the first go round — it had to pass through design hell before its potential for good could really emerge.
UPDATE (9/2014): The ugly logo has been located! Read all about it here.
Notes
Technically the IAEA is autonomous from the UN though under its aegis. [↩]
Paul C. Szasz, "The Law and Practices of the International Atomic Energy Agency," [IAEA] Legal Series No. 7 (Vienna: International Atomic Energy Agency, 1970), 1001-1002. [↩]