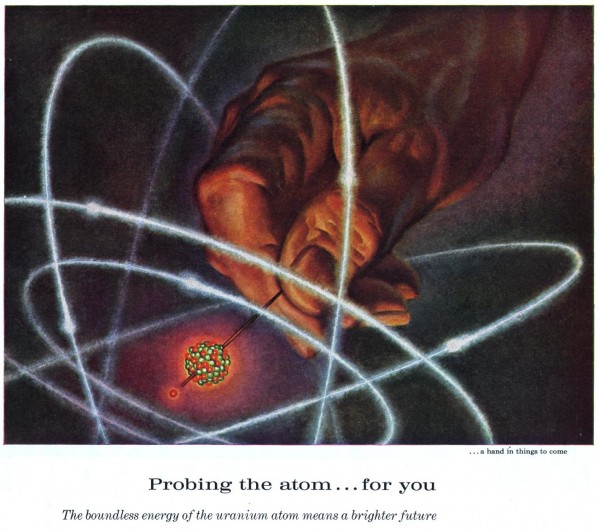 We no longer live in the nuclear age, or, at least, we don't think we do — so I concluded awhile back. But that won't stop me from talking about it! This Wednesday, September 11th, 2013, I will be participating in a live webcast at the Chemical Heritage Foundation in Philadelphia:
On Sept. 11, 2013 the Chemical Heritage Foundation will present a live online video discussion, "Power and Promise: What's become of our nuclear golden age?" Guests Alex Wellerstein and Linda Richards will take stock of our turbulent nuclear past and look at how it has shaped our current attitudes, for better and for worse.

Some say we are on the verge of a bright nuclear future in which nuclear power will play a major role in responding to climate change. Others say that we should expect more Fukushimas. Whichever way our nuclear future goes, there will be energy and environmental tradeoffs. On CHF's blog you can decide on the tradeoffs you are willing to make. Tweet to vote your choices. Viewers can also tweet questions to the guests before or during the show by using the hashtag #HistChem.

"Power and Promise: What's Become of Our Nuclear Golden Age?" will air at 6 p.m. EST.  Watch the livecast episode at www.chemheritage.org/live.

Guest Bios:

Alex Wellerstein is an associate historian at the Center for History of Physics at the American Institute of Physics. He holds a Ph.D. in the history of science from Harvard University and his research interests include the history of Cold War technology, including nuclear technology. He blogs at http://blog.nuclearsecrecy.com/.

Linda M. Richards is a former CHF fellow and will be returning in 2014 as a Doan Fellow. She is working on a Ph.D. on nuclear history at Oregon State University. Her dissertation is titled "Rocks and Reactors: The Origins of Radiation Exposure Disparity, 1941-1979." In 2012 she received a National Science Foundation grant that took her to the International Atomic Energy Agency (IAEA) in Vienna, UN agencies and archives in Geneva, and to North American indigenous uranium mining sites.

About the Show:

#HistChem is a monthly interactive livestreamed show produced by the Chemical Heritage Foundation. It features topically compelling issues that intersect science, history and culture. Hosts are Michal Meyer, editor of Chemical Heritage Magazine, and Bob Kenworthy, a CHF staff member and chemist. The first episode, "How We Learned to Stop Worrying and Love the Zombie Apocalypse," debuted in August, 2013. Follow the show and related news at chemheritage.org/media

About the Chemical Heritage Foundation:

The Chemical Heritage Foundation is a collections-based nonprofit organization that preserves the history and heritage of chemistry, chemical engineering, and related sciences and technologies. The collections are used to create a body of original scholarship that illuminates chemistry's role in shaping society. In bridging science with the humanities, arts, and social sciences, CHF is committed to building a vibrant, international community of scholars; creating a rich source of traditional and emerging media; expanding the reach of our museum; and engaging the broader society through inventive public events.
This should be a fun thing, as Linda and I take somewhat different approaches (both interesting) to many nuclear issues, and the CHF team asks great questions. You can Tweet in questions for the show with the right hashtag (#HistChem) and it may somehow magically get to us while we're talking. And hey, I'll be wearing a suit!
Update: The video has been posted online, enjoy!