Everyone knows the Manhattan Project was big. But how big was it? There are lots of ways to try and convey the bigness. The size of the buildings and sites, for example. Or the cost — $2 billion 1945 USD, which doesn't sound that big, even when converted to modern numbers (e.g. around $30 billion 2012 USD, depending on the inflator you use), since we're used to billions being tossed around like they are nothing these days. But consider that the USA spent about $300 billion on World War II as a whole — so that means that the atomic bombs made up for a little under 1% of the cost of the entire war. Kind of impressive, but even then, it's hard to wrap one's head around something like "the cost of World War II."
Another approach is to talk about how many people were involved. There are a number of various estimates floating around. Instead of focusing on those, I want to jump directly to the source: a once-secret postwar report on Manhattan Project personnel practices that includes some raw numbers on hiring.1
This report has two very interesting graphs in it. The first is this one, showing total employment by month, broken into the various important Manhattan Project categories: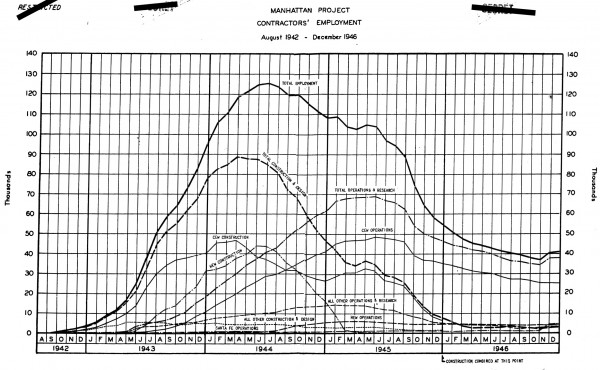 Let's just take a moment to marvel at this. They went from pretty much just talking about a bomb, in theory, on paper, in late 1942, and had a project with 125,310 active employees at its peak, 22 months later. That's a huge ramp-up.
I like this graph because it helps you see, very plainly, the progress of the project. You can see that Oak Ridge (CEW) and Hanford (HEW) construction both got rolling pretty quickly but took about a year to hit their maximums, and that all construction peaked in early 1944. At which point, operations became the main issue — running the plants. It's interesting to compare how many more people were required for Oak Ridge operations than Hanford operations, and that the "Santa Fe Operations" — Los Alamos, et al. — barely registers on the graph. A couple thousand people at most.
You can also see how rapidly that curve starts to drop off in September 1945 — over 10,000 people left at the end of the war, a significant chunk of them being Oak Ridge operations personnel. There is then a long slumping decline until late 1946, when you start to get an up-tick. This maps on pretty well with what we know about the history of the Manhattan Project in the period before the Atomic Energy Commission took over: Groves' hard-built empire decayed under the uncertainty of the postwar and the dithering of Congress.
This is where we get the number one usually sees cited for the Manhattan Project: 125,000 or so employees at its peak. Which is impressive... but also kind of misleading. Why? Because peak employment is not cumulative employment. That is, the number of people who work at any given company today are not the number of people who have worked there over the course of its lifetime. Obvious enough, but if one is wondering how many people did it take to make the atomic bomb, one wants to know the cumulative employment, not the number on hand at any one time, right?
Digging around a bit more in the aforementioned personnel statistics of the Manhattan Project (a thrilling read, I assure you), I found this rather amazing graph of the total number of hires and terminations by the project: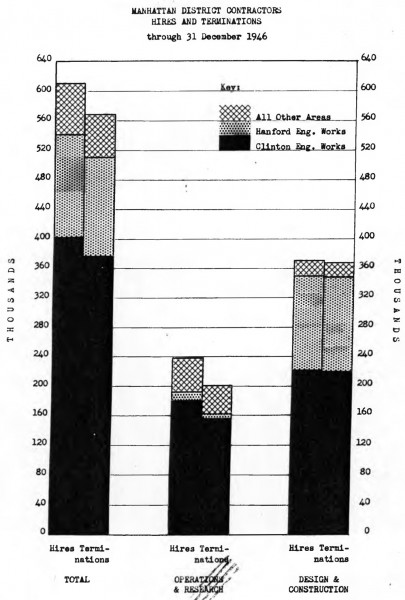 Now that number on the left, the total hires, is a pretty big one — over 600,000 total. Unlike the other graph, I don't have the exact figure for this, but it looks to be around 610,000. That's a huge number. Why would the numbers be at such odds? Because at the big sites — Oak Ridge and Hanford — there was a pretty high rate of turnover, as the "terminations" bar indicates: over 560,000 people left their jobs on the Manhattan Project by December 1946.
Some of this, of course, is because the job was done and they went home — once the construction was done, you didn't need as many people working on construction anymore. But it's also because even during the war, there was a considerable amount of people either quitting or getting fired. People left their jobs all the time, at all times during the war. As the report indicates, the reasons and rates varied by site. For construction at Hanford, they had an average monthly turnover rate of 20%, with a ratio of resignations to discharges set at 3 to 1. Of those who resigned, 26% did so because of illness, 19% were to move to another location (which could be a lot of things), 13% cited poor working conditions, 13% said there was an illness in the family, 14% had got another job somewhere else, 7% cited the poor living conditions, 6% got drafted or otherwise joined the military, and 2% complained about wages. Of those who were discharged, about a quarter of the time it was because they were an "unsatisfactory worker," and the rest of the time it was because of chronic absenteeism. For construction at Oak Ridge, the average turnover rate was 17%, with mostly the same reasons given, though the resignations to discharge ratio was 2 to 1. (More people, by percentage, complained about the living conditions at Oak Ridge than at Hanford.) For the operations at Oak Ridge, the turnover rate was 6.6%, with a resignations to discharge ration of 1.3 to 1 — of those who left, a little over 40% did so because they were fired.
Of course, these numbers run through the entire tenure of the Manhattan Engineer District. When most people want to know how many people it took to make the bomb, they want to know up until August 1945 or so. I don't have exact numbers on this. However, if we take the data from the report and the graphs, and assume an average monthly turnover rate of about 17% for the entire project, we end up with about the right number total.2 Subtracting all of the people added after August 1945, we get around 485,000 total people required to make the bombs during World War II. Given how much of that employment was front-loaded (again, with a peak in June 1944), I don't think it's too far off to assume that probably half a million people were employed to make the bomb. Which, to put that in perspective, means that during World War II, approximately 0.4% of all Americans worked on the bomb project — about one out of every 250 people in the country at the time.
Which is pretty impressive. By contrast, I've seen estimates that said that the Soviets used about 600,000 people total to make their atomic bomb. Which is not too different a number, actually — a bit less impressive than one might think if one is only comparing it to the peak of the Manhattan Project. The Soviets had around 170 million people at the time, so it works out to be a pretty similar percentage of the total population as the American project. Of course, one suspects that fewer of the Soviet workers were able to quit because they didn't like the wage and working conditions. Though I'm sure they had their own form of grim "turnover."
Notes
Manhattan District History, Book I – General, Volume 8 – Personnel (dated 19 February 1946 but with numbers that suggest later additions were made. [↩]
If you want to play with the data yourself, I've uploaded it here as a CSV file. Some of it is extrapolated from the top graph. [↩]
Tags: 1940s, Hanford, Leslie Groves, Manhattan Project, Oak Ridge, Soviet Union