Are nuclear explosions art? Anyone who has taken even a glance into modern and contemporary art knows that the official mantra might as well be "anything goes," but I found myself wondering this while visiting the exhibition "Damage Control: Art and Destruction since 1950" that is currently at the Hirshhorn Museum. The first thing one sees upon entering is a juxtaposition of two very different sorts of "work." On the right is a fairly long loop of EG&G footage of nuclear test explosions, broadcast in high definition over an entirety of a wall. On the left is a piano that has been destroyed with an axe. This, I thought, is at least a provocative way to start things off.
Edgerton, Germeshausen, and Grier (EG&G) was a contractor for the federal government during the Cold War, responsible for documenting nuclear test explosions. Quite a lot of the famous Cold War nuclear detonation footage was taken by EG&G. They are perhaps most famous for their "Rapatronic" photographs, the ultimate expression of MIT engineer Harold "Doc" Edgerton's work of slowing down time through photography, but this was only a part of their overall contribution. The film they have at the Hirshhorn is something of an EG&G "greatest hits" reel from the 1950s, and its affect on the others in the audience was palpable. Adults and children alike were drawn to the blasts, displayed one after another without commentary or explanation.1 Their reactions didn't strike me as one of disgust or horror, but of amazement and awe. Most of the footage was from the Nevada Test Site, so the bombs were generally just blowing up desert scrub, and occasionally houses constructed for effects testing.
The destroyed piano, by contrast, got reactions of shock and disgust. It was the remains of a piece of performance art conducted by Raphael Montañez Ortiz, one of several he's done, apparently. My wife, a piano player and a nuclear historian, also found it disturbing. "If you know what goes into making a piano...," she started to say. "But then again, if you know what goes into making a city...," she caught herself. I overheard other people say similar things.
The difference in reactions isn't too surprising — it's a common theme that it is easy to appreciate the destruction of something at a human scale, difficult to appreciate it at the scale of nuclear bomb. A lot of what I've spent time doing, with the NUKEMAP and my writing, is to try to understand, and to impart, the scale of a nuclear explosion. A lot of this has involved looking at the attempts of others, as well, from official Cold War visualizations made for secret committees to popular films, as they have tried to communicate this to their target audiences. The hardest thing is that our brains appear only to be wired for empathy at the individual level, and don't readily apply it to large groups or large areas. The best work in these areas conveys both the broad scope of destruction, but then ties it into the personal. They individualize the experience of mass ruination.
And the EG&G footage isn't trying to do that. It was data meant for very specific technical purposes. It was developed in order to further the US nuclear program, and defense against Soviet nuclear weapons. Which is why I somewhat question its inclusion, or, at least, its decontextualization. It is art only in the sense that it has aesthetics and it has been put into an art gallery. One can read into it whatever one wants, of course, but it wasn't created to have deep meaning and depth in that sense. (Whether one cares about authorial intention, of course, is its own can of modern art worms.) Just as a small example of what I mean, Andy Warhol famously made a print of mushroom clouds for his own "disaster" series (a few of which, but not this print, were featured in the exhibit):
Now Warhol is a complicated character, but since he was explicitly an artist I think it is always fair game to talk about his possible intentions, the aesthetics of the piece, the deeper meanings, and so on. Warhol's art has generally been interpreted to be about commercialization and commodification. The mushroom cloud in repetition becomes a statement about our culture and its fascination with mass destruction, perhaps. Coming in the mid-1960s, after the close-call terrors of the early years of the decade, perhaps it was maybe too-little too-late, but still, it has an ominous aesthetic appeal, perhaps now more than then.
Because I don't think this image was widely circulated at the time, I doubt that Warhol knew that Berlyn Brixner, the Trinity test photographer, had made very similar sorts of images of the world's first nuclear fireball at "Trinity":
Brixner appreciated the aesthetics and craft of his work, to be sure. But the above photograph is explicitly a piece of technical data. It is designed to show the Trinity fireball's evolution over the 15-26 millisecond range. Warhol's instrument of choice was the silkscreen printer; Brixner's was the 10,000 fps "Fastax" camera. There's a superficial similarity in their atomic repetition. You could make a statement by putting them next to each other — as I am doing here! — but properly understood, I think, they are quite different sorts of works.
Don't get me wrong. Re-appropriating "non-art" into "art" has been a common move over much of the 20th century at the very least. But the problem for me is not that people shouldn't appreciate the aesthetics of the "non-art." It's that focusing on the aesthetics makes it easy to lose sight of the context. (As well as the craft — Brixner's work was exponentially more difficult to produce than Warhol's!) The EG&G footage in the exhibit doesn't explain much of how, or why, it was made. It seems to be asking the viewer to appreciate it solely on its aesthetic grounds. Which I think is the real problem. Many of the tests they show resulted in significant downwind fallout for the populations near the Nevada Test Site. Many of them involved the development of new, ever-more elaborate ways of mass destruction. Many of them were the product of years of top scientific manpower, untold riches, and a deep political context. To appreciate them as simply big, bright booms robs them of something — no matter how aesthetically beautiful those big, bright booms actually are. 
What makes it more ironic is that the exhibit actually does give considerable context to some of the works that are explicitly "art." You have to explain the context of Gustav Metzger's "auto-destructive" art — it involves him filming himself painting on canvases with a strong acid, so the artwork destroys itself in the process. Without the context there, what is left is just a boring, not-very-comprehensible movie of a man destroying a blank canvas. But anyway.
In terms of the audience at the exhibit, which was fairly well-attended when I was there with my wife, the most interesting part was the handling of children. The Smithsonian museums are of course explicitly places that people take their children while visiting the city, so it's no surprise that you probably find more of them at the Hirshhorn than you would at MOMA or other similar institutions. But children add a level of anxiety to an exhibit about destruction. They were wowed by the wall-o'-bombs but not, it seemed, by the piano. Parents seemed to let them wander free through most of it, but there were several films where I saw kids get yanked out by their parents once the parents realized the content was going to be disturbing. In one of these films, the "disturbing" content was of a variety that might have been hard for the children to directly understand — the famous film of the Hindenburg going up in flame, for example, where the violence was real but seen from enough of a distance to keep you from seeing actual injuries or bodies. The one I saw the kids getting really removed from (by their parents, not the museum) was footage of the 2011 Vancouver riots. I wasn't impressed too much with the footage itself (its content was interesting in a voyeuristic way, but there seemed to be nothing special about the filming or editing), but the immediacy of its violence was much more palpable than the violence-at-a-distance that one saw in most of the other such works. It's cliche to trot out that old quote attributed (probably wrongly) to Stalin that one death is a tragedy, a million is a statistic, but there's something deeply true to it about how we perceive violence and pain.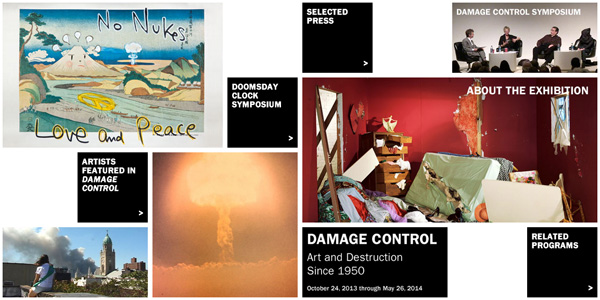 There are a lot of works in the exhibit. As one would expect, some hew to the theme very closely, some are a bit more tenuous. Overall, though, it was pretty interesting, and if you're in town, you ought to check it out. The original comment my wife made about pianos and cities stuck with me as I looked at all of the various meditations on "destruction." In it, I kept coming back to the second law of thermodynamics. On the face of it, it is a very clinical, statistical law: "the entropy of an isolated system never decreases." It is actually quite profound, something that the 19th-century physicists who developed it knew. Entropy can be broadly understood as "disorder." The second law of thermodynamics says, in essence, that without additional energy being put into it, everything eventually falls apart. It takes work to keep things "organized," whether they are apartments, bodies, or cities.2 Ludwig Boltzmann, who helped formulate the law, stated gnomically in 1886 that:
The general struggle for existence of animate beings is not a struggle for raw materials – these, for organisms, are air, water and soil, all abundantly available – nor for energy, which exists in plenty in any body in the form of heat Q, but of a struggle for [negative] entropy, which becomes available through the transition of energy from the hot sun to the cold earth.
In other words, life itself is a struggle against entropy. Our bodies are constantly taking disordered parts of the world (heat energy, for example, and the remains of other living things) and using them to fuel the work of keeping us from falling apart.
But the other way to think about this law is that generally it is easier to take things apart than it is to keep them together. It is easier to convert a piano into a low-energy state (through an axe, or perhaps a fire) than it is to make a piano in the first place. It is easier to destroy a city than it is to make a city. The three-year effort of the half-a-million people on the Manhattan Project was substantial, to be sure, but still only a fraction of the work it took to make the cities of Hiroshima and Nagasaki, and all that they contained, biological and material, in the first place.
Of course, the speed at which entropy increases is often controllable. The universe will eventually wear out — but not for a long time. Human civilization will necessarily go extinct — but it doesn't have to happen anytime soon. What hits home with the "Damage Control" exhibit is how we as a species have to work so hard to keep everything together, while simultaneously working so hard to find ways to make everything fall apart. And in this, perhaps, it is a success, even if I left with many niggling questions about the presentation of some of the works in particular.
Notes
Various guys in the audience would occasionally try to give explanation to their loved ones, and they were generally incorrect, alas. "That must be at Alamogordo... That's got to be an H-bomb..." no, no, no. Of course, I was there with my wife, and I was talking up my own little storm (though less loudly than the wrong guys), but at least I know my stuff for the most part... [↩]
The key, confusing part about the second law is the bit about the "isolated system." It doesn't say that entropy always increases. It says that in an isolated system — that is, a system with no energy being input into it — entropy always increases. For our planet, the Sun is the source of that input, and you can trace, through a long series of events, its own negative entropy to the Big Bang itself. [↩]
Tags: 1940s, 1950s, 1960s, 2010s, Graphic design, Musings, Nuclear testing