I've found myself in a work crunch (somehow I've obligated myself to give three lectures in the next week and a half, on top of my current teaching schedule!), but I'm working on some interesting things in the near term. I have a review of Eric Schlosser's Command and Control coming out in Physics Today pretty soon, and I'll post some more thoughts on his book once that is available. And I have something exciting coming up for the 60th anniversary of Oppenheimer's security hearing.
In the meantime, I wanted to share the results of one little investigation. I've posted a few times now (Posing with the plutonium, Little boxes of doom, The Third Core's Revenge) on the magnesium boxes that were used to transport the plutonium cores used for the Trinity test and the Fat Man bomb:
Just to recap, they were a design invented by Philip Morrison (the Powers of Ten guy, among other things), made out of magnesium with rubber bumpers made of test tube stoppers. They could hold the plutonium core pieces (two in the case of the Trinity Gadget, three in the case of Fat Man), as well as neutron initiators. Magnesium was used because it was light, dissipated heat, and did not reflect neutrons (and so wouldn't create criticality issues). All of this information is taken from John Coster-Mullen's Atom Bombs, an essential book if you care about these kinds of details.
But all of the photographs of the box I had seen, like those above, were in black and white. Not a big deal, right? But I find the relative lack of color photography from the 1940s one of those things that makes it hard to relate to the past. When all of Oppenheimer's contemporaries talked about his icy blue eyes, it makes you want to see them as they saw them, doesn't it? Maybe it's just me.
The only place where I almost saw a color photo of the box is in a photo that the late Harold Agnew had taken of himself on Tinian. It's one of a large series of posing-with-plutonium photos that were taken on the island of Tinian sometime before the Nagasaki raid. Only this one is in color! Except... well, I'll let the photo speak for itself: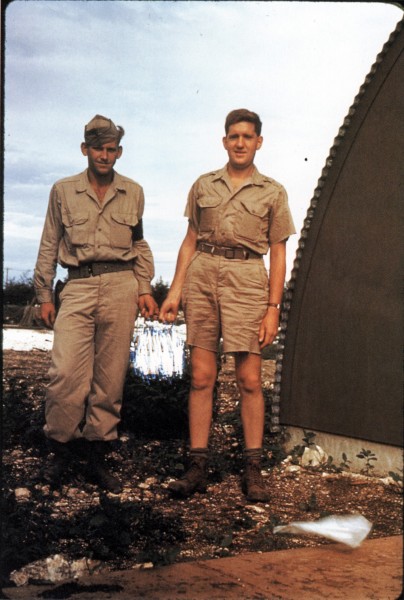 Yeah. Not super helpful. This was scanned from Rachel Fermi and Esther Samra's wonderful Picturing the Bomb book. They asked Agnew what had happened, and he told them that:
I was in Chicago after the war in 1946. The FBI came and said they believed I had some secret pictures. They went through my pictures and found nothing. Then like a fool I said, "Maybe this one is secret." They wanted to know what that thing was. I told them and they said that it must be secret and wanted the picture. I wanted the picture so they agreed if I scratched out the "thing" I could keep the slide.
Thwarted by nuclear secrecy, once again! You can try to look extra close at the scratches and maybe just make out the color of the "thing" but it's a tough thing to manage.
Ah, but there is a resolution to this question. Scott Carson, a retired engineer who posts interesting nuclear things onto his Twitter account, recently posted another  photo of the box — in color and unredacted! His source was a Los Alamos newsletter from a few years back. It is of Luis Alvarez, another member of the Tinian team, in the same exact pose and location as the redacted Agnew photograph... but this time, un-redacted! And the color of the box was...
...yellow? Not what I was expecting.
Why yellow? My guess: it might be the same yellow paint used on the Fat Man bomb. Fat Man was painted "a mustard yellow rust-preventing zinc-chromate primer" (to quote from Coster-Mullen's book) that made them easier to spot while doing drop tests of the casings.
The box for the Trinity core doesn't look painted yellow to me — it looks more like raw magnesium. Maybe they decided that the tropical atmosphere of Tinian, with its high humidity, required painting the box to keep it from oxidizing. Maybe they just thought a little color would spruce up the place a little bit. I don't know.
Does it matter? In some sense this is pure trivia. If the box was blue, green, or dull metallic, history wouldn't be changed much at all. But I find these little excursions a nice place to meditate on the fact that the past is a hard thing to know intimately. We can't see events exactly as they were seen by those who lived them. Literally and figuratively. The difficulty of finding out even what color something was is one trivial indication of this. And the secrecy doesn't help with that very much.
Tags: 1940s, Fat Man, Musings, plutonium, Tinian, Trinity