Leo Szilard is one of the most fascinating characters of the nuclear age. He was colorful, principled, clever, and often genuinely ahead of his time. And he always shows up early in the story.
Richard Rhodes starts off his The Making of the Atomic Bomb with Szilard's famous 1933 epiphany:
In London, where Southampton Row passes Russell Square, across from the British Museum in Bloomsbury, Leo Szilard waited irritably one gray Depression morning for the stoplight to change. A trace of rain had fallen during the night; Tuesday, September 12, 1933, dawned cool, humid and dull. Drizzling rain would begin again in early afternoon. When Szilard told the story later he never mentioned his destination that morning. He may have had none; he often walked to think. In any case another destination intervened. The stoplight changed to green. Szilard stepped off the curb. As he crossed the street time cracked open before him and he saw a way to the future, death into the world and all our woe, the shape of things to come. [...]

"As the light changed to green and I crossed the street," Szilard recalls, "it ... suddenly occurred to me that if we could find an element which is split by neutrons and which would emit two neutrons when it absorbs one neutron, such an element, if assembled in sufficiently large mass, could sustain a nuclear chain reaction. "I didn't see at the moment just how one would go about finding such an element, or what experiments would be needed, but the idea never left me. In certain circumstances it might be possible to set up a nuclear chain reaction, liberate energy on an industrial scale, and construct atomic bombs." Leo Szilard stepped up onto the sidewalk. Behind him the light changed to red.1
It makes for a good read, though there are disputes about the exact timing of this apparent epiphany. But the basic fact seems to remain: Leo Szilard thought up the nuclear chain reaction over five years before fission was discovered. But he wasn't taken seriously.
But what did he really propose at the time, though, and not just in retrospect? And should he have been taken more seriously? This is what I want to discuss at some length here, because it is a point of common confusion in a lot of writing on nuclear history.
Szilard had a really interesting idea in the fall of 1933. He took out a patent on it in the United Kingdom, which he required to be made secret. Was Szilard's idea really an atomic bomb? Was it even a nuclear reactor?  The reason to suspect it was not, on the face of it, is that nuclear fission hadn't been discovered in 1933. That didn't happen until late 1938, and it wasn't announced until early 1939. So what, really, was Szilard's idea? And why did he file a (secret) patent on it? Was Szilard ahead of his time, or just a crank?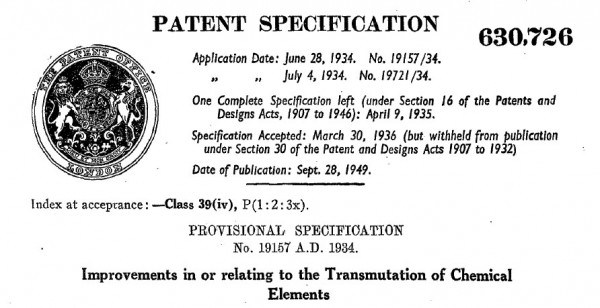 Szilard's 1934 patent is easily available these days, and is worth looking at carefully with an eye to what it both says and doesn't says. The patent in question is GB630,726: "Improvements in or relating to the Transmutation of Chemical Elements."2 He filed the application first in late June 1934, updated it in early July, and finalized it by April 1935. The UK Patent Office accepted it as valid in late March 1936, but it was "withheld from publication" at Szilard's request under Section 30 of the Patent and Designs Act. It was eventually published in late September 1949, 15 years after it had been originally applied for.
The basic summary of the patent is straightforward:
This invention has for its object the production of radio active bodies[,] the storage of energy through the production of such bodies, and the liberation of nuclear energy for power production and other purposes through nuclear transmutation.

In accordance with the present invention nuclear transmutation leading to the liberation of neutrons and of energy may be brought about by maintaining a chain reaction in which particles which carry no positive charge and the mass of which is approximately equal to the proton mass or a multiple thereof form the links of the chain.
This sounds awfully promising, especially when you know what you are looking for. It looks like he's got the right idea, for a reactor at least: it is patent for creating a neutron-based chain reaction. The reason that neutrons matter is because they lack an electrical charge, and so are not repelled by either the protons or the electrons in atoms. This allows them to penetrate into the nucleus. If they can be linked up so that one reaction produces more reaction, they become a chain reaction. Sounds good, especially if we assume that he means an exponential chain reaction (i.e. each reaction produces more than one subsequent reaction).
But once you get beyond the heading, the details of the patent are, frankly, kind of a confused mess.
Szilard doesn't actually even state that the chain reaction is going to be produced by neutrons. He hedges his bets there — he describes a neutron, essentially, but generalizes the claim for anything that might behave like a neutron. He calls these "efficient particles" (terrible name), and they have to basically be proton-like in mass but lacking a positive charge. OK, fine. The neutron had just been discovered in 1932, so Szilard is probably thinking that there might be other possible particles out there that acted the same way.
The really weird stuff comes in when he tries to explain how this really works. He defines a chain reaction as when "two efficient particles of different mass number alternate a 'doublet chain.'" Wait, what? He gives an example:
C(12) + n(2) = C(13) + n(1)
Be(9) + n(1) = "Be(8)" + n(2)
Let's unpack this. C-12 is Carbon-12, C-13 is Carbon-13, Be-9 is Beryllium-9, "Be(8)" is Beryllium-8, put in quotes here because Szilard know it is pretty unstable (it has an extremely short half-life before it alpha decays). The weird parts are the neutrons — n(1) is just a regular neutron. n(2) seems to be a dineutron, a particle which does exist but was only discovered in 2012, and is certainly not something you can count on. (Szilard never says it is a dineutron, but he implies that you might be able separate n(2) into n(1)+n(1) with another reaction, so it seems to be just that.)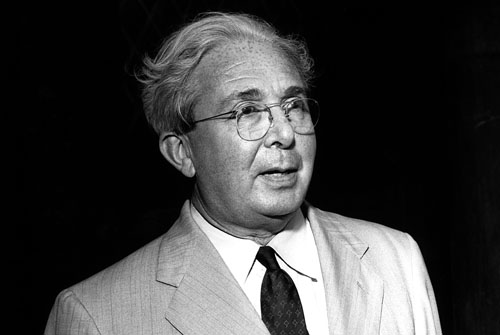 So the idea here is that the Carbon-12 absorbs a dineutron, emits a neutron, which is then absorbed by the Beryllium-9, which emits another dineutron. It's essentially a linear chain reaction, which is not nearly as impressive or fast as an exponential chain reaction. But it would generate some significant energy: calculating the mass deficit of these equations shows that together the net energy release would be around 3.3 MeV, about 100X less than a fission reaction, but is some 330,000X more powerful than the combustion of a single molecule of TNT (~10 eV).3 You'd also maybe get some alpha particles (from the Be(8) decay), but it isn't going to generate a lot of neutrons or dineutrons (they are going to be eaten up by the reaction itself).
Szilard then notes that maybe there are exponential ways to do this. He suggests that maybe some elements will create multiple neutrons when irradiated with neutrons, e.g.
 Be(9) + n(1) = "Be(8)" + n(1) + n(1)
This is a much more exciting possibility, because if every reaction creates the possibility of two more reactions, now we are talking about a reaction that can grow really dramatically. The only problem here is that this reaction seems to be endothermic; if you use E=mc2 to calculate the mass deficit, it comes out as -1.67 MeV. Which ought to be a hint that it isn't going to work.
Szilard then continues by saying that he could make this work well if only he knew what elements might behave this way. Which is really the crux of it, of course. Szilard has no evidence that any element behaves this way. He has no a priori reason to think any of them do. It's just a pie-in-the-sky idea: what if there were elements that, when they absorbed one neutron, released two? But Szilard doesn't dwell on this lack of knowledge. He immediately moves on to how he would design a simple reactor if an element was found. It is nothing terribly interesting: he describes a way to create neutrons and aims them at the reacting substance, then siphons off heat with a heat exchanger and uses it to run a turbine.
In July 1934, Szilard filed an "additional specification" — another patent claim attached to his original patent application. It is an elaboration on the reactor idea. Since he still doesn't know what fuel would make it run, it's still not very interesting, other than the fact that he's put a lot of evident work into figuring out some of the basic properties of the reactor despite not having any clue how its core would actually work. Interestingly he does discuss uranium, but not as a fuel (he thinks it would maybe emit X-rays if he shot high energy electrons at it).
Finally, in April 1935 he filed the last, "Complete" specification. This is more or less identical to a combination of the previous two, except he further makes explicit that he thinks there are going to be "explicit particles" other than neutrons that might work. Basically he asserts that there are probably "heavier isotopes of the neutron"4 and that "It is essential that two isotopes of the neutron should take part in the reaction in order to obtain a chain" (my emphasis). The latter instance shows that he is still not thinking of this quite right — it is not essential that there are multiple isotopes of neutrons.
In his examples, he believes that a "tetraneutron" (i.e. n(4)) exists and can play a role in the reactions. (I know nothing of tetraneutrons, but Wikipedia says that they were claimed to be discovered in 2002 but that the experiments could not be replicated.) Szilard seems to be basing his patent claims here on experiments, but it's not clear whether he did them or someone else did them, but it seems likely he's misinterpreting the data. It's a very odd argument, and he rests quite a lot on it — he seems to think it is far more likely that a nuclear reaction will release bunches of bound neutrons (dineutrons, tetraneutrons) instead of multiples of free neutrons (i.e. as fission does). And then the whole thing was kept secret until 1949 — an awful long time for something that actually reveals nothing of any practical utility, much less military applications.
According to The Collected Works of Leo Szilard, there was an additional claim in his patent application of March 1934 that Szilard had removed from the final specification:
(a) Pure neutron chains, in which the links of the chain are formed by neutrons of the mass number 1, alone. Such chains are only possible in the presence of a metastable element. A metastable element is an element the mass of which (packing fraction) is sufficiently high to allow its disintegration into its parts under liberation of energy. Elements like uranium and thorium are examples of such metastable elements; these two elements reveal their metastable nature by emitting alpha particles. Other elements may be metastable without revealing their nature in this way.5
This is much, much closer to the truth, although it is still somewhat unclear what Szilard really thinks about this. It's not clear whether he's describing radioactive decay in the traditional sense, nuclear metastability (which is something different altogether), or something different. Uranium and thorium are radioactive and undergo alpha decay — that, by itself, doesn't actually indicate that they are good candidates for the kinds of reactions Szilard is thinking about. Szilard doesn't think they are going to split, he thinks they are going to become artificially radioactive. Not the same thing at all. Still, this is a lot closer to the correct formulation, but we have to read it in the context of everything else he put in the patent.
Anyway, so what's the verdict? Does the patent describe a bomb? Does it even describe a reactor? Definitely not a bomb, and not really a reactor. Most of Szilard's energies on the patent are describing something that would, at best, take an input amount of energy and magnify it a bit: you'd use a cathode ray to generate high energy electrons, which would generate high energy neutrons, which would stimulate linear chain reactions that would create radioactive byproducts and release a little energy. Maybe you could keep it self-sustaining but it seems like kind of a long-shot to me.6
If you read the patent today with the benefit of hindsight, it's easy to see where Szilard was right and where he was wrong. There is a germ of rightness in the patent, but it is clouded by a fog of wrongness, or at least confusion. I'm not blaming Szilard for this, of course. Like almost everyone else, he didn't predict fission. He was ahead of his time, in the sense of anticipating that neutrons in particular were going to be important particles for creating nuclear chain reactions. But he didn't really understand how it would work. As a result, most of the patent involves describing a device that wouldn't work. To guess even something right about the future is a large task, even if one gets a few things wrong.
So was Szilard a visionary or a crank? To someone in 1934 or 1935, it would have been completely reasonable to dismiss Szilard's patent as being too speculative and potentially too wrong (dineutrons, tetraneutrons, etc.) to be worth spending time worrying about. It also isn't clear it has any real military implications — it isn't even clear it would work as a power source, much less a weapon. To dismiss Szilard as something of a crank prior to the discovery of fission wouldn't have been wrong. Szilard's point of reference here isn't fission, it's artificial (induced) radioactivity, which had been discovered by the Joliot-Curies just prior to Szilard's patent filing. But you can't make artificial radioactivity work the way Szilard wants it to. I don't fault anyone for not taking him very seriously at the time — because Szilard's scheme was missing an absolutely essential component, and in its place there were a lot of incorrect assumptions.
After the discovery of fission in late 1938/early 1939, suddenly it is easy to pick out the visionary aspects of Szilard's work. It suddenly becomes clear that Szilard was, in fact, a little ahead of the game. That if instead of his plans for beryllium-carbon reactions with neutrons and dineutrons, that a simple, neutron-based, exponential chain reaction would be possible with nuclear fission, and that furthermore it would release a lot more energy a lot quicker than what Szilard had dreamed up in the early 1930s.
Which is a conclusion that complicates the simple visionary/crank dichotomy. Szilard wasn't really either in my mind. He had a germ of a good idea, but not the whole picture. But when the missing element came along, he was uniquely ready to see how it would complete his original idea. That's the real story here, the real accomplishment: Szilard didn't have to play catch-up when fission was announced, because he'd already thought a lot of this through. But that shouldn't lead us to over-estimate the importance of the original patent work — it wasn't a bomb, it wasn't really even a reactor. But it did become a useful framework for thinking about fission, when fission came along.
Notes