Just a quick plug: as noted previously, I'm moving out of the Washington, DC, area very soon, to start a new job at the Stevens Institute of Technology in the New Jersey/NYC area. My last talk as a DC denizen is going to be next Monday, July 21st, at the American Institute of Physics in College Park, Maryland, from 12-1:30pm.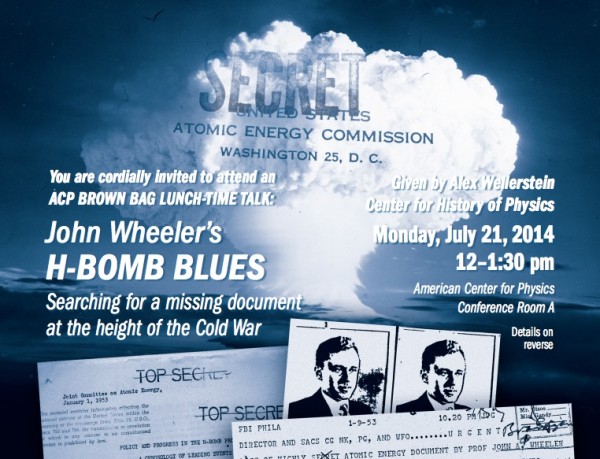 The AIP History Programs invites you to an ACP Brown Bag Lunch-Time Talk:

John Wheeler's H-bomb blues:
Searching for a missing document
at the height of the Cold War

by Alex Wellerstein, Postdoctoral Fellow at the Center for History of Physics

Monday, July 21, 2014
12–1:30 pm

Conference Room A
American Center for Physics
1 Physics Ellipse
College Park, MD 20740

There's never a right time to lose a secret document under unusual circumstances. But for the influential American physicist John Archibald Wheeler, there might not have been a worse time than January, 1953. While on an overnight train ride to Washington, D.C., only a month after the test of the first hydrogen bomb prototype, Wheeler lost, under curious circumstances, a document explaining the secret to making thermonuclear weapons.

The subsequent search for the missing pages (and for who to blame) went as high as J. Edgar Hoover and President Eisenhower, and ended up destroying several careers. The story provides a unique window into the precarious intersection of government secrecy, competing histories of the hydrogen bomb, and inter-agency atomic rivalry in the high Cold War. Using recently declassified files, the AIP Center for History of Physics' outgoing Associate Historian will trace out the tale of  how Wheeler ended up on that particular train, with that particular document, and the far-reaching consequences of its  loss—or theft—for both Wheeler and others involved in the case.
It's a very fun paper, drawing heavily on John Wheeler's FBI file, and one that I will be turning into an article fairly soon. It is open to the public if you RSVP. If you're in town and want to see me before I go, please feel free to come! To my knowledge it will not be live-streamed or recorded or anything like that.
Tags: H-bomb