David Greenglass, the key witness in the espionage case of Julius and Ethel Rosenberg, has died. He was Ethel Rosenberg's brother, and his testimony doomed both his sister and brother-in-law. Greenglass explained to the jury how he had, as an engineer at Los Alamos, been drawn into a Soviet spy ring by his brother, and argued that his sister played a non-trivial role in the entire affair. Greenglass also provided, with the sanction of the Atomic Energy Commission's classification officer, the first public description of an implosion nuclear weapon. Exhibit 8, drawn in Greenglass' hand, was proclaimed by the prosecution to be a "sketch of the very atomic bomb itself," and could not be countered by the Rosenbergs' attorney. Instead, the defense argued that releasing such a sketch into the world was a security risk (even though, again, it had been pre-approved for release), and they had it impounded, where it stayed out of view until the late 1970s. Nevertheless, Greenglass' description of the bomb quickly entered into the public eye, and "implosion" became part of our nuclear lexicon.1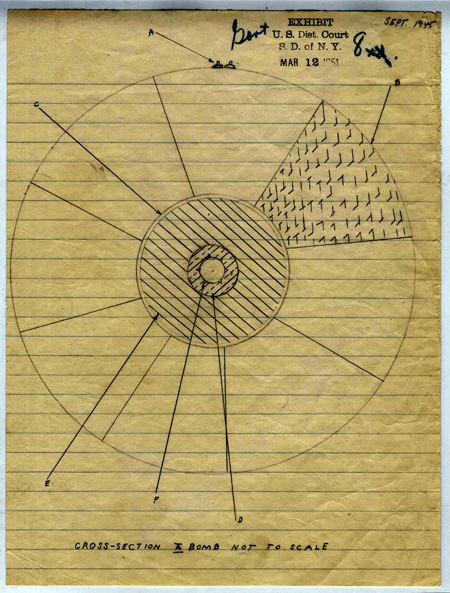 (Exhibit 8 was later released, in the 1970s, for reexamination as part of a hearing on behalf of Morton Sobell, another defendant at the Rosenberg trial. The physicist Phillip Morrison argued that it was a crude, child-like sketch of the bomb, and of little value to the Soviets. The judge concluded, however, that the basic principle of implosion was still revealed by the drawing, and it was still classified. At the very least, it helped to confirm other espionage data as legitimate. The New York NARA office scanned the above version of it for me.)
Greenglass later admitted to have perjured himself. The deal was that he would implicate Ethel, and in exchange, his wife, Ruth Greenglass, would walk free. Greenglass took the deal — he didn't want to leave his children unwatched, even while he himself went to prison. And perhaps he felt a tinge of frustration that Julius and Ethel wouldn't cooperate like he had. Asked about it years later, he said: "My wife is more important to me than my sister. Or my mother or my father, O.K.? And she was the mother of my children."2
The rules of American Cold War prosecutions, and persecutions, were pretty simple. First, admit that you had done whatever it was you had done. In the case of people accused of being Communists, it meant admitting you had been a member of the Communist Party. In the case of spies, it meant admitting you were a spy. Second, give up the names of your contacts and associates, so that they could then be prosecuted/persecuted. In this way, searches for spies and Communists was something of a security-tinged pyramid scheme, an endless engine for new sources.
What if you hadn't done what you were accused of? Or wouldn't confess, even if you had done it? Well, that's the tricky case, isn't it? The place where the system breaks down, where there real violence gets done.
In the case of the Rosenbergs, the FBI had pretty good evidence of Julius' guilt. Not only did they have the confessions of Greenglass and Harry Gold, the "courier" for the spy ring, but they — unbeknownst to almost all at the time — also had the evidence gleaned from the VENONA intercepts, where Soviet communications during World War II had been secretly decrypted. The combination of VENONA and the confessions makes the case against Julius Rosenberg pretty much a slam dunk. Since the revelation of VENONA in the 1990s, I have not yet met a historian who doesn't think that Julius was a spy. Because VENONA was secret, however, the FBI could not introduce the evidence into court (and secret testimony in criminal cases is generally a "no-no" under American jurisprudence), and so had to rely on the testimony of Greenglass and Gold to make the case, which made it look like a lot less obvious at the time, because both were not extremely reliable witnesses (Gold was a strange supplicant who would say almost anything; Greenglass was angling for a deal and indeed, did perjure himself).
Ethel was much more problematic. What she knew, or didn't know, about the spy operation isn't as clear. Julius got code-names in the VENONA transcripts ("Antenna" and "Liberal"), which indicate he was something of a key asset. Ethel's code-name was... "Ethel," indicating she was not. Did she know what Julius and her brother were up to? It seems hard to imagine she did not. Did she deserve the electric chair? Maybe, maybe not. I happen to be on the side that thinks that capital punishment for an espionage crime committed in the service of a state that was then an ally is extreme. Much less for someone whose role, like Ethel's, was probably fairly minor. It is clear, from the historical record, that pushing for the death penalty for both was part of a strategy to scare the two into cooperating, and to scare others who dared not to cooperate. I don't think executing them achieved anything like justice.
But I have some real problems feeling sympathy and empathy for the Rosenbergs. They maintained their absolute innocence all the way through their executions. They left two children as orphans. They created fissures in American politics that still resonate to this day, with Cold War liberals absolutely convinced of their innocence, and Cold War hawks convinced of their being traitors. The by-product was an ugly polarization of American Cold War politics that was potentially avoidable. Now we know that at least Julius was guilty, and that he lied to everyone, repeatedly. He had the choice to avoid the chair. He chose to be a martyr. And, again, to orphan his children.
I find that hard to respect. Who was he protecting? Stalin? The Communist Party? His reputation? It is hard to conceive what cause would be worth what he did. It is one thing to doom himself, but another to doom his wife. And I keep coming back to the children. Who would do that to their children? Both of the children were, until relatively recently, defenders of the innocence of their parents, which makes perfect sense. What a crushing blow to believe the contrary.
Part of the problem, from a latter-day point of view, is that Julius Rosenberg, by the very nature of his lack of confession, is a Sphinx. On his motivations and justifications, he is silent — he never told his side of the story, the real, non-B.S. side of the story. It makes him feel cold to me, gazing out from those pictures. I find myself saying: "Why'd you do it?" We know he spied. If he had just told us why, maybe we could understand, and have some empathy. But he took his side of the story to his grave.
It is a very different situation than with Klaus Fuchs, Theodore Hall, Harry Gold, and even David Greenglass. Fuchs confessed at length about his motivations, his feelings on the subject. He felt the Soviets were owed the information, as those who were bleeding the most during the war against Fascism. Hall was very young at the time of his espionage, but one can recognize and sympathize with the naive politics of youth. And Hall's central belief, that maybe the world would be safer without just one country having atomic weapons, is not actually a totally naive position — it is the essence of deterrence theory, for better or worse. Gold's way into espionage was not ideological, but psychological: he was a needy person and fell in with the wrong crowd, who exploited his near-pathological desire to please. (When he was caught by the FBI, they exploited this as well in turning him into a key witness.)3
What if Julius had left a last testament? A confession to be released years later? How would that change the story? What if he pled with us to understand his position? I can completely understand why someone would spy for the Soviets during World War II. The Communists appeared to many to be the only real power willing to fight Fascism, racism, and economic injustice. Was it a big sham? Of course. Stalin was no freedom fighter. The American Communist Party was opportunistic and crass regarding its cause célèbres. But one can at least empathize with the position: you can see the world through their eyes, at that terrible time, and conclude that cutting the Soviets out of the atomic bomb project was a form of injustice.
But can I find a way to understand the silence of Julius Rosenberg? Why he doomed himself and his wife to death? Why he doomed his children to orphanhood? This I struggle with. What could be worth all that? Who, or what, was he saving? It is hard for me to imagine anything worth that. To me, this is much worse, from a human standpoint, than the spying. Spying makes sense to me. It happens all the time. But lying in such a self-destructive way, for seemingly no purpose? This makes no sense.
And so Julius Rosenberg brings a bad taste in my mouth. As a historian, this is not a great thing: one wants to be as objective and neutral as possible with regards to one's historical actors. One doesn't want to develop personal animosities, even for terrible people, because it can color your viewing of the past. I don't think I would be able to be wholly neutral with regard to Julius. Fortunately, he comes into my research only glancingly (I am not interested in him, per se, but I am interested in how the AEC, FBI, etc. handled the trial). If only he had told us what he felt, why he did what he did! Even if it was stupid, even if it was naive, even if it was pathetic — it would be something to go on, something to feel for, something to make a connection to.
Greenglass's choice of his wife and children over his sister and brother-in-law is an agonizing one. One can hardly fault him for choosing the path he did. Especially since, if Julius had confessed to what we now know for sure that he did, nobody would have been executed. I find myself pitying David Greenglass. He made some bad decisions, and paid a very steep price for them. I have a harder time finding similar pity, or sympathy, for his brother-in-law, Julius, whose historical silence is deafening.
Notes
The authoritative account of how Greenglass' testimony on implosion and the AEC's role in its release is Roger M. Anders, "The Rosenberg Case Revisited: The Greenglass Testimony and the Protection of Atomic Secrets," American Historical Review 83, no. 2 (April 1978): 388-400. The response of the Rosenberg lawyers is discussed in Ronald Radosh and Joyce Milton, The Rosenberg File, 2nd. edn. (New Haven, Conn.: Yale University Press, 1997), 188-195. [↩]
As quoted Robert McFadden, "David Greenglass, the Brother Who Doomed Ethel Rosenberg, Dies at 92," New York Times (14 October 2014), A1. On Greenglass's lying, see Sam Robert, The Brother: The untold story of atomic spy David Greenglass and how he sent his sister, Ethel Rosenberg, to the electric chair (New York: Random House, 2001). [↩]
On Hall, see esp. Joseph Albright and Marcia Kunstel, Bombshell: The Secret Story of America's Unknown Atomic Spy Conspiracy (New York: Times Books, 1997). On Gold, see the really quite remarkable Alan Hornblum, The Invisible Harry Gold (New Haven: Yale University Press, 2010). [↩]