One of my favorite articles from The Onion concerns the imagined allure of "the button":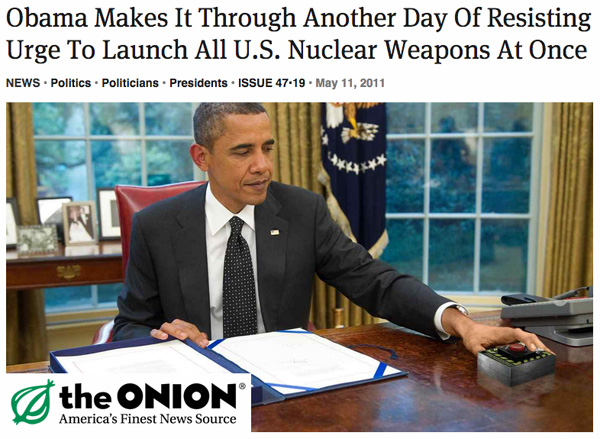 Despite being constantly tempted by the seductive power of having an apocalyptic arsenal at his fingertips, President Barack Obama somehow made it through another day Tuesday without unlocking the box on his desk that houses "the button" and launching all 5,113 U.S. nuclear warheads. …

Though the president confirmed his schedule was packed with security briefings, public appearances, and cabinet meetings, he said he couldn't help but steal a few glances at the bright red button, which is "right there, staring at [him], all the time."
The article manages to wring a lot of humor out of the idea that on the President's desk is a big red button that starts World War III.
Like much of The Onion's satire, it is exceedingly clever in taking a common trope and pushing it into absurd territory. Even the physicality of the idea of a "button" is toyed with:
"Did you know that if you sort of put enough weight on the button with your fingertip, you can feel a little slack there before it actually clicks?" Obama added. "Thank you, and God bless America."
I was thinking about this article a few months ago because I was asked by my friend from grad school, Latif Nasser, if I would be interested in talking to him and NPR's Robert Krulwich about "the button" for a Radiolab episode they were working on. The Radiolab show was initially meant to be about buttons — in all senses of the term — but they kept finding that things that they thought were buttons were in fact either non-buttons or non-functional buttons. You can listen to the full episode here: "Buttons Not Buttons."
You should listen to the whole episode, but — spoiler alert — the interesting thing about the nuclear "button" is that there isn't a nuclear button. That is, nuclear war can't be started by just pounding a big red button. Sorry. Waging a nuclear war requires a lot more activity, spread out across a vast geographical area, and is a complex interaction of technical, organizational, and political issues. In the Radiolab interview, I attempted to paint in broad strokes the kind of vast technical and organizational networks that are needed to maintain the United States' command and control systems — the systems that let you use nukes when you want to, and make sure that nukes don't get used when they are not supposed to be used.
The Onion article indicates, in its wry way, one of the key reasons there isn't a single "button" — it would be way, way too dangerous. Nobody wants nuclear war to be that easy to start. Or, as I like to put it, you don't want a nuclear weapon that can be set off by a cat. Because you know that, sooner or later, a cat would set it off. Such is the way of cats. There are places in the world where big red buttons exist. But they are usually used to stop activity, not start it. They are emergency shutoff switches, things that you need to push in a big hurry, without too much hassle. And even they might require you to break some glass first.
On the other hand, if you're a believer in deterrence and all that, you don't want it to be too hard to start nuclear war. So this is just another variation of the "always/never" problem: you want to be able to start nuclear war if you need to, and start it quickly and effectively, but on the other hand, you want to never start nuclear war accidentally.
From a technical standpoint, this means that you have to engineer a pretty complex system. In principle, the United States President has complete control over whether nuclear war starts. But the President doesn't work in a missile silo. So somewhere between the President and the silo has to be a delegation of authority, and a subsequent potential loss of control. One could, in theory, completely automate that control — you could install a single "button" — but aside from the technical difficulty of that, there are a lot of new potential errors that get introduced.
Eric Schlosser's Command and Control is a great read if you are interested in how this problem gets addressed over the course of the Cold War. Michael Gordin's Five Days in August is, in part, a great description of how these issues were wrangled with even in the earliest days of nuclear weapons as political control transferred from Potsdam to Washington and Tinian. If I could add footnotes to radio interviews, I would prominently name-check both of these books — they greatly improved my own understanding of this. As did the work of my friend Dan Volmar, who is writing a dissertation on US command and control systems. And I need to give a massive hat-tip to Stephen Schwartz, who clued me into the Roger Fisher "cut the heart out" that I wrote about a few years back.
Of course, there sometimes are switches, keys, and — yes — buttons, as part of the overall launching systems. But they aren't centralized, and they are always more complicated than a simple big, red button. US ICBM launches require two simultaneous keys to be turned by two different people, on different sides of the room, the idea being that the odds of two people deciding to collude on an illegal launch are lower than one. SLBM launches, Stephen Schwartz reports, require the use of a pistol-grip "trigger" that is kept in a safe— a button, of sorts, though one that is hard to accidentally set off.
OK, so there isn't a single nuclear button. Why do we talk about a button? This is a great history of technology question — "the button" is a metaphor, and not a new one. Starting in the 19th century, "the button" (or the "push button" or other variations on the same thing) started becoming a standard English idiom for "quick and easy and automatic." The idea that you "push a button" and something happens — as easy as that! — shows up in the late Machine Age and continues onward.
So "the button" is just a metaphor for how technology makes things easy. That's why everything in The Jetsons is button-based — the future was meant to take this to the extreme, where George Jetson would just spend all day at work pressing a single button. (Of course, many of us do press buttons all day — I am pressing quite a few as I type this — but generally not just one button.) If you combine the button imagery with the atomic bomb, it becomes a comment on the way technology has made mass destruction easy.
In fact, the idea that technology had made it so easy to destroy the world that a single button could set it all off predates nuclear fission. In the 1890s, a Parisian newspaper published a skit about Thomas Edison destroying all of England by joining some wires and pushing "button No. 4." For this anecdote, and several others relating to "pushbutton" world destruction prior to fission, I am grateful to Spencer Weart's Nuclear Fear: A History of Images.1
There are other "button" stories I found while searching from newspaper and journal databases. In 1929, the famous American physicist Robert Millikan was quoted as saying that "no 'scientific bad boy' ever would be able to blow up the world by releasing atomic energy," (!), and he later "scoffed at the idea that in the future by pressing a button a man might have an army of atomic servants wash his face, mend his clothing or make his bed." In a 1932 review of the 1928 proto-atomic-bomb drama "Wings Over Europe," it is noted that "All the scenes are set in Downing-street and the chief character is a young scientist who has presented to the cabinet a secret that could destroy the world by pressing a button." In article from the Weekly Irish Times in 1932, it is feared that atomic energy will enable "a time when, by the pressing of a button or turning of a switch, it will be possible for somebody to explode the whole world like a penny balloon. It will be a tremendously lethal opportunity." On these proto-atomic bomb fantasies, especially in the U.K. context, I found Graham Farmelo's Churchill's Bomb very useful. Churchill himself was an atomic-bomb speculator in the H.G. Wells vein, writing about atomic energy as early as 1931.
So when the actual atomic bomb came along, there was already a ready-made imagery to be applied to it. (And Weart's book is excellent at demonstrating this well beyond the realm of buttons, too.) So when did people first start applying the button metaphor to the bomb? As early as late August 1945, there are discussions of "push-button" battles. By November 1945, when the physicist Edward Condon argued during Congressional testimony that "The next war should be described as the War of the Pushbuttons," it was already something of a cliché. The idea of World War III being a "pushbutton war" started pretty early.
I have to admit, I was a little uncertain how the "button" line of discussion was going to come together when I was first contacted by Latif, but the more I thought about it, the more I thought it was a nice way to get into a lot of different, interesting issues both about the history of the bomb (and what "the button" means, metaphorically), but also in explaining why there isn't a button, it allows for a nice, tangible, interesting way to bring up the questions involved in command and control systems — moving the discussion of the bomb out of the realm of pure imagery and into the tangible and real.
Notes
The specific Edison piece, with "button No. 4," comes from a source Weart cites: Wyn Wachhorst, Thomas Alva Edison: An American Myth (MIT Press, 1981), 103. A copy of the actual story is reproduced above, via Google Books (and thanks to Latif for finding that copy of it). [↩]