After 10 years of effort, Cindy Kelly of the Atomic Heritage Foundation has managed to achieve the seemingly-impossible: she got Congress to agree to preserving several former Manhattan Project sites. I have worked with Cindy in the past and am so extremely proud of her and her organization, and am frankly amazed that she managed to get this through this impossible Congress.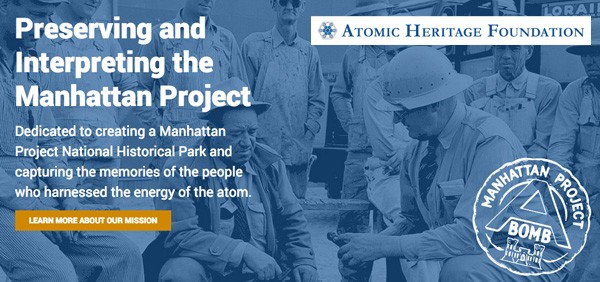 I completely support this preservation, without reservations. I have seen in various places that there are people who think that preserving these sites might somehow lead to "glorification" of the atomic bombs. I find this an extremely un-compelling objection. The atomic bombs will be glorified, or not, whether you preserve the facilities that produced them. We have preserved far more heinous sites for the historical record, because preservation does not mean endorsement. In fact, preservation often can mean an opportunity to reflect upon the past, warts and all. And razing these sites — which is the other alternative — would not change one bit of their history, or how it is remembered. People who worry about the historical legacy of the atomic bomb should be happy these sites are going to be preserved, because in the future, when we are talking about how they should be contextualized and interpreted, everyone will have a place to put their own vision of these places forward.
To clear one thing up, nobody knows what the "interpretation" — the presentation materials, exhibits, what have you — associated with these sites will look like. That is still a long way down the road. The bill which created these sites, the National Defense Authorization Act of 2015, signed by President Obama in December, provides no guidance for interpretation, and, non-coincidentally, no funding for it. It merely sets the sites apart, giving the National Park Service the ability to claim custody of them from the Department of Energy. Part of the reason for wanting something like this is evident in the DOE's destruction of K-25 — the DOE is not really about preservation, and if these sites are not being used by them, they are just as likely to destroy them as anything else.
Interpretation funds will presumably come later. A few years ago I participated in an NSF-sponsored workshop related to the interpretation of these sites, in preparation for the possibility of this legislation passing. It was an extremely interesting experience, and I blogged a little about it at the time. My key take-away then was that almost everyone there had fairly similar ideas as to what good interpretation of the Manhattan Project would be — not a mindless glorification, or an equally problematic polemic, but something that would try to contextualize the Manhattan Project both within World War II and the Cold War. This includes both its relationship to the bombing of Japan, and questions about whether it was necessary or not, as well as its environmental and personal legacies.
Obviously this is contested ground. I am hopeful that the NPS will reach out to historians, archivists, museum curators, and other stakeholders (including, but not limited to, veterans) when it develops its interpretation materials. Interpretation of the past in a public context can be incredibly controversial, of course. We all know of the 1995 Smithsonian Enola Gay controversy. Does this have an opportunity to turn out the same way?
It's not clear to me that it would. For one thing, this isn't the mid-1990s, with all of its immediate post-Cold-War ambivalences, and its fierce battles over the historical memory of the still-living, mixed with the "Culture Wars" of the time. There are far fewer World War II veterans around than there were then, and the historical scholarship itself is not nearly as polarized around rigid ideological positions as it was then. On the whole, my feeling is that there is an increased willingness to acknowledge the complexities of both American and Japanese actions in the Pacific Theatre. There are ways of talking about this history that doesn't make it seem like it endorses any particular political position on either World War II or the Cold War. The complexity of the historical events and questions being asked require this kind of complex presentation, if they are taken seriously. Very little in good history boils down to easy ideological stances.
Let's hope that when it comes to interpretation, the NPS will feel emboldened enough to get a balanced text together, and that our politicians will not show themselves to be so frail and afraid of history as they did during the Enola Gay exhibition. I am personally optimistic — so much has changed since the 1990s, in terms of historical memory of the bomb, and we are getting to that place where enough time has passed that things are not so raw and recent. There is still a "Culture War," to be sure, though the terms seem a little different than the mid-1990s. But in general, there is, I think, more of a middle-ground between the classic "revisionist" and "orthodox" views on the bomb, and this middle-ground is, I think, less problematic to those on both the left and the right. It will be interesting to see, as a preview, the various "70th anniversary of the bomb" overtures that will be made this summer, and how those resonate culturally. (A colleague of mine recently suggested that frankly the more interesting anniversary will be the 80th one, when there will be exactly zero living veterans still around.)
But even if things should get heated, even if old debates over the war and its conduct should bubble up, we should be glad for it. It is better to have a contested site than to have no site at all. We can always argue over the interpretation of the past, and we always will. We should see this as a new an invitation to a discussion, and reasonable people can disagree on key questions and issues, and let us hope that whatever controversies that come from it prove generative. We should keep the experience of the Smithsonian in mind when thinking about the creation of interpretative materials — for example, by making sure that many stakeholders are involved in the planning process, which will lead, at the very least, to fewer surprises down the line.
I look forward to participating in these future discussions. But we can only do that if we preserve the past in the first place, which is what this bill is trying to do. People who object that this bill will just result in the glorification of the past are being short-sighted about its intent and purpose, and making assumptions that, at the moment, are unwarranted. I don't think there can be any question as to whether preservation is the right move, because the alternative — neglect and destruction — is no alternative at all.