As the atomic bomb was becoming a technological reality, there were many scientists on the Manhattan Project who found themselves wondering about both the ethics and politics of a surprise, unwarned nuclear attack on a city. Many of them, even at very high levels, wondered about whether the very threat of the bomb, properly displayed, might be enough, without the loss of life that would come with a military attack.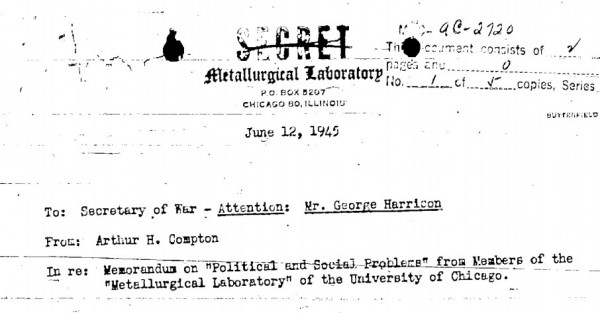 The Franck Report, written in June 1945 by scientists working at the University of Chicago Metallurgical laboratory, put it perhaps most eloquently:
...the way in which nuclear weapons, now secretly developed in this country, will first be revealed to the world appears of great, perhaps fateful importance. ... It will be very difficult to persuade the world that a nation which was capable of secretly preparing and suddenly releasing a weapon, as indiscriminate as the rocket bomb and a thousand times more destructive, is to be trusted in its proclaimed desire of having such weapons abolished by international agreement.... 

From this point of view a demonstration of the new weapon may best be made before the eyes of representatives of all United Nations, on the desert or a barren island. The best possible atmosphere for the achievement of an international agreement could be achieved if America would be able to say to the world, "You see what weapon we had but did not use. We are ready to renounce its use in the future and to join other nations in working out adequate supervision of the use of this nuclear weapon."
They even went so far as to suggest, in a line that was until recently totally etched out of the historical record by the Manhattan Project censors, that "We fear its early unannounced use might cause other nations to regard us as a nascent Germany." 
The idea of a "demonstration" was for many scientists a compelling one, and news of the idea spread to the various project sites. The idea would be to let the Japanese know what awaited them if they did not surrender. This would be more than just a verbal or textual warning, which could be disregarded as propaganda — they would set the bomb off somewhere where casualties would be low or minimal, but its nature easy to verify. If the demonstration did not work, if the Japanese were not receptive, then the bomb could be used as before. In the eyes of these scientists, there would be no serious loss to do it this way, and perhaps much to gain.
Of course, not all scientists saw it this way. In his cover letter forwarding the Franck Report to the Secretary of War, the physicist Arthur Compton, head of the Chicago laboratory, noted his own doubts: 1. if it didn't work, it would be prolonging the war, which would cost lives; and 2. "without a military demonstration it may be impossible to impress the world with the need for national sacrifices in order to gain lasting security." This last line is the more interesting one in my eyes: Compton saw dropping the bomb on a city as a form of "demonstration," a "military demonstration," and thought that taking a lot of life now would be necessary to scare the world into banning these weapons in the future. This view, that the bombs were something more than just weapons, but visual arguments, comes across in other scientists' discussions of targeting questions as well.
Truman was never asked or told about the demonstration option. It is clear that General Groves and the military never gave it much thought. But the Secretary of War did take it serious enough that he asked a small advisory committee of scientists to give him their thoughts on the matter. A Scientific Panel, composed of J. Robert Oppenheimer, Arthur Compton, Enrico Fermi, and Ernest Lawrence, weighed in on the matter formally, concluding that: "we can propose no technical demonstration likely to bring an end to the war; we see no acceptable alternative to direct military use."1
I find this a curious conclusion for a few reasons. For one thing, are these four scientists really the best experts to evaluate this question? No offense, they were smart guys, but they are not experts in psychological warfare, Japanese political thought, much less privy to intercepted intelligence about what the Japanese high command was thinking at this time. That four physicists saw no "acceptable alternative" could just be a reflective of their own narrowness, and their opinion sought in part just to have it on the record that while some scientists on the project were uncomfortable with the idea of a no-warning first use, others at the top were accepting of it.
But that aside, here's the other fun question to ponder: were they actually unanimous in their position? That is, did these four physicists actually agree on this question? There is evidence that they did not. The apparent dissenter was an unlikely one, the most conservative member of the group: Ernest Lawrence. After the bombing of Hiroshima, Lawrence apparently told his friend, the physicist Karl Darrow, that he had been in favor of demonstration. Darrow put this into writing on August 9, 1945, to preserve it for posterity should Lawrence come under criticism later. In Darrow's recollection, Lawrence debated it with the other scientists for "about an hour" — a long-enough time to make it seem contentious. On August 17, after the bomb had "worked" to secure the peace, Lawrence wrote back to Darrow, somewhat denying this account, saying that it was maybe only ten minutes of discussion. Lawrence, in this later account, credits Oppenheimer as being the hardest pusher for the argument that unless the demonstration took out a city, it wouldn't be compelling. I'm not sure I completely believe Lawrence's later recant, both because Darrow seemed awfully convinced of his recollection and because so much changed on how the bomb was perceived after the Japanese surrendered, but it is all an interesting hint as some of the subtleties of this disagreement that get lost from the final documents alone. In any case, I don't know which is more problematic: that they debated for an hour and after all that, concluded it was necessary, or that they spent no more than ten minutes on the question.2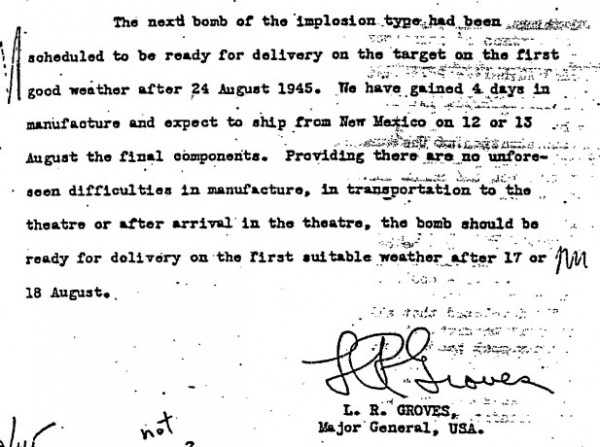 As an aside, one question that sometimes gets brought up at this point in the conversation is, well, didn't they only have two bombs to use? So wouldn't a demonstration have meant that they would have only had another bomb left, perhaps not enough? This is only an issue if you consider the timescale to be as it was played out — e.g., using both bombs as soon as possible, in early August. A third plutonium bomb would have been ready by August 17th or 18th (they originally thought the 24th, but it got pushed up), so one could imagine a situation in which things were delayed by a week or so and there would have been no real difference even if one bomb was expended on a demonstration. If they had been willing to wait a few more weeks, they could have turned the Little Boy bomb's fuel into several "composite" core implosion bombs, as Oppenheimer had suggested to Groves after Trinity. I only bring the above up because people sometimes get confused about their weapon availability and the timing issue. They made choices on this that constrained their options. They had reasons for doing it, but it was not as if the way things happened was set in stone. (The invasion of Japan was not scheduled until November 1st.)3
So, obviously, they didn't choose to demonstrate the bomb first. But what if they had? I find this an interesting counterfactual to ponder. Would dropping the bomb in Tokyo Bay have been militarily feasible? I suspect so. If they could drop the bombs on cities, they could probably drop them near cities. To put it another way: I have faith they could have figured out a way to do it operationally, because they were clever people.4
But would it have caused the Japanese high command to surrender? Personally, I doubt it. Why? Because it's not even clear that the actual atomic bombings were what caused the Japanese high command to surrender. There is a strong argument that it was the Soviet invasion of Manchuria that "shocked" them into their final capitulation. I don't know if I completely buy that argument (this is the subject of a future blog post), but I am convinced that the Soviet invasion was very important and disturbing to the Japanese with regards to their long-term political visions for the country. If an atomic bomb dropped on an actual city was not, by itself, entirely enough, what good would seeing a bomb detonated without destruction do? One cannot know, but I suspect it would not have done the trick.
Of course, the Chicago scientists suspected that as well, but said it was necessary from a moral point of view. Sure, the Japanese might not surrender, but then, at least, you can say you showed them what was coming first.  As it was, we gave no real warning whatsoever before dropping it on Hiroshima. But here's the question I come to next: could you demonstrate it, and then drop it on a city? That is, could the United States really say: "we have made this apocalyptic weapon, unleashed the atom, and many other peril/hope clichés — and we have chosen not to use it to take life... yet. But if you don't give in to our demands, we will unleash it on your people." How could that not look like pure blackmail, pure terrorism? Could they then turn around and start killing people by the tens of thousands, having announced their capability to do so? Somehow I suspect the public relations angle would be almost impossible. By demonstrating it first, they would be implying that they knew that it was perhaps not just another weapon, not just another way to wage war. And that acknowledgment would mean that they would definitely be seen as crossing a line if they then went on to use it.
As it was, that line, between the bomb as "just another weapon" and something "special," was negotiated over time. I think the demonstration option was, for this reason, never really going to be on the table: it would have forced the American policymakers to come to terms with whether the atomic bomb was a weapon suitable for warfare on an earlier schedule than they were prepared to. As it was, their imagery, language, and deliberations are full of ambiguity on this. Sometimes they thought it would have new implications for "man's position in the universe" (and other "special bomb" notions), sometimes they thought it was just an expedient form of firebombing with extra propaganda value because it would be very bright and colorful. Secrecy enabled them to hedge their bets on this question, for better or worse.
So who was right? I don't know. We can't replay history to see what happened, obviously. I think the idea of a demonstration is an interesting expression of a certain type of ethical ideal, though it went so far against the practical desires of the military and political figures that it is hard to imagine any way it would have been pursued. I am not sure it would even have been successful, or resolved the moral bind of the atomic bomb.
I do find myself somewhat agreeing with those scientists who said that perhaps it was better to draw blood with the smaller, cruder bombs, before the really big ones came around — and they knew those were coming. If we didn't have Hiroshima and Nagasaki, what would we point to, to talk about why not to use nuclear weapons? Would people think the bombs were not that impressive, or even more impressive than they were? I don't know, but there is something to the notion that knowing the gritty, gruesome reality (and its limitations) is better than not. It took the Holocaust for the world to (mostly) renounce genocide, maybe it took Hiroshima and Nagasaki for the nuclear taboo to be established (arguably). That, perhaps, is the most hopeful argument here, the one that sees Hiroshima and Nagasaki as not just the first cities to be atomic bombed, but the last, but I am sure this is little solace to the people who were in those cities at the time.
Notes