This past week and this next week are the last of my winter break before the new semester starts, which in the true fashion of academia means I am more busy than I usually am trying to cram as much non-teaching "work" into every day as possible. North Korea's test of a nuclear weapon earlier this week, of course, just added to the workload. Thanks, Kim Jong-un. I am behind on my annual Nuclear History Bibliography, but it is coming, soon. NUKEMAP usage has been about 10X higher than normal — over 300,000 users last week.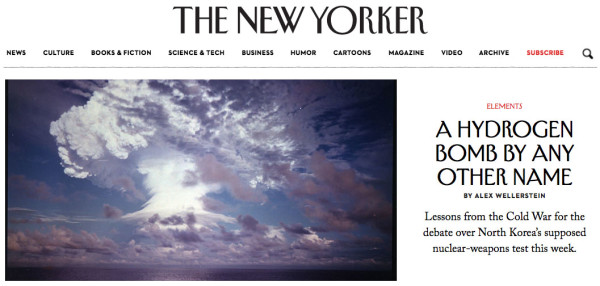 I have written up a piece for the New Yorker's Elements blog on the historical-technical-political dimensions of calling something a "hydrogen bomb," or disputing it, that went up yesterday. I also talked a bit to Business Insider about how the true "Teller-Ulam design" of a thermonuclear weapon is not merely a single bomb design but an entire system of designing a getting of possible effects — so one ought not necessarily be expecting the North Koreans to make something that looks like Ivy Mike, Castle Bravo, or, god forbid, the Tsar Bomba. The North Koreans themselves, in their official statement (a wild read in and of itself), claimed that the "technological specifications of the newly developed H-bomb for the purpose of test were accurate and scientifically verified the power of smaller H-bomb" — a lot of little qualifications that seem to be saying, "we're trying for miniaturization, not high yields, and this was a scientific test of a principle, not of a full-yield warhead."
Given their strategic situation, a smaller bomb would make a whole lot more sense than something the size of a school bus. And I would note that the tendency to test all weapons at full power (or even more than the projected yield) is something that, while characteristic of the American program, is not necessarily the only way to do things. (The Soviets typically tested large bombs at half-power, on purpose.)
Which is just to say, I don't think we (at least those of us in the unclassified world) quite have enough information to really parse out what the North Koreans were trying to do in that test. The yield estimates coming out — ranging from 6 to 30 kilotons or so — don't sound like much, in and of themselves. But there's still a lot we don't know, and might not know.1
Somewhere in between hysterically overestimating North Korea's capabilities and smugly underestimating them is some sort of middle ground, a place where we need to acknowledge that this is 60-year-old technology, and the sheer technical difficulty alone is probably not going to stop them from becoming a fully-fledged nuclear power.
Notes
And there are also ways to reduce the seismic signature of nuclear tests — like setting off a test in the cavern created by a previous test. It isn't clear what incentive North Korea would have in making their tests look smaller than they actually were, but, then again, there is much about their thinking that is not intuitive to those of us on the outside. So I'm not sure that's a likely scenario, but I don't think it can be ruled out as impossible. [↩]
Tags: 2010s, Hydrogen bomb, North Korea, Nuclear testing