One of the really salient issues about nuclear weapons is that they are expensive. There's just no way to really do them on the cheap: even in an extremely optimized nuclear weapons program, one that uses lots of dual-use technology bought off-the-shelf, to make a nuclear weapon you need some serious infrastructure.
That's not to say that you need to redundantly overspend as much as the Manhattan Project did, or the US did during the Cold War, but even "cheap" nuclear weapons programs are pretty costly. There are a few multinational corporations that could probably pull it off if they were given carte blanche with the technology, but basically you're talking about a weapon that is made for, and by, states. (I'm not, of course, ignoring the possibility of hijacking someone else's infrastructural investments, which is another way to think about theft of fissile material.)
Solid gold B61s aside, this is a good thing. It actually makes nuclear weapons somewhat easy to regulate. I know, I know — the history of trying to control the bomb isn't usually cited as one of the great successes of our time, but think about how much harder it would be if you couldn't spot bomb factories? If every university physics department could build one? If they were really something you could do, from scratch, in an old airstream trailer?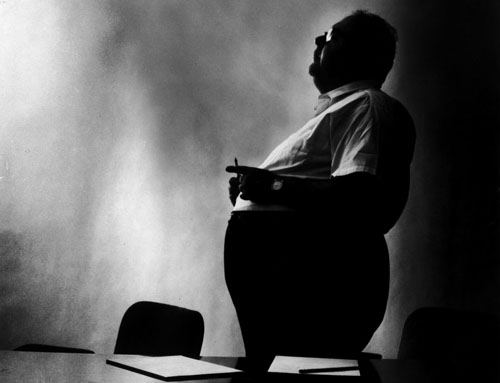 Herman Kahn, the great thinker of unthinkable thoughts, has a bit about the relationship between cost and doomsday in his 1965 book On Escalation, which a someone in the audience of a talk I gave last month helpfully sent along to me:1
Assume that it were possible to manufacture a "doomsday machine" from approximately $10 worth of available materials. While it might be "unthinkable" that the world would be destroyed by such a "doomsday machine," it would also be almost inevitable. The only question would be: Is it a matter of minutes, hours, days, months, or years? About the only conceivable way of preventing such an outcome would be the imposition of a complete monopoly upon the relevant knowledge by some sort of disciplined absolutist power elite; and even then one doubts that the system would last.2

If the price of the "doomsday machine" went up to a few thousand, or hundreds of thousands, of dollars, this estimate would not really be changed. There are still enough determined men in the world willing to play games of power blackmail, and enough psychopaths with access to substantial resources, to make the situation hopeless.

If, however, the cost of "doomsday machines" were several millions or tens of millions of dollars, the situation would change greatly. The number of people or organizations having access to such sums of money is presently relatively limited. But the world's prospects, while no longer measured by the hour hand of a clock, would still be very dark. The situation would improve by an order of magnitude if the cost went up by another factor of 10 to 100.

It has been estimated that "doomsday" devices could be built today for something between $10 billion and $100 billion. [Multiply that by 10 for roughly current price in USD]3 At this price, there is a rather strong belief among many, and perhaps a reasonably well-founded one, that the technological possibility of "doomsday machines" is not likely to affect international relations directly. The lack of access to such resources by any but the largest nations, and the spectacular character of the project, make it unlikely that a "doomsday machine" would be built in advance of a crisis; and fortunately, even with a practical tension-mobilization base, such a device could not be improvised during a crisis.
In other words, since Doomsday Machines are phenomenally expensive, and thus only open as options to states with serious cash to spend (and probably serious existing infrastructures), the odds of them being built, much less used, are pretty much nil. Hooray for us! (Nobody tell Edward.) But as you slide down the scale of cheapness, you slide into the area of likelihood — if not inevitability — given how many genuinely bad or disturbed people there are in the world.
Cost and control go hand-in-hand. Things that are cheap (both in terms of hard cash as well as opportunity cost, potential risk of getting caught, and so on) are more likely to happen, things that are expensive are not. The analogy to nuclear weapons in general is pretty obvious and no-doubt deliberate. Thank goodness H-bombs are expensive in every way. Too bad that guns are not, at least in my country.
But area where I start really thinking about this is biology. Check out this graph:
This graph is a log chart of the cost of sequencing an entire human genome, plotted over the last decade or so. Moore's Law is plotted in white — and from 2001 through the end of 2007, the lines roughly match. But at the beginning of 2008, sequencing genomes got cheap. Really cheap. Over the course of four years, the cost dropped from around $10 million to about $10,000. That's three orders of magnitude. That's bananas. 
I was already reeling at this graph when I saw that Kathleen Vogel has a very similar chart for DNA synthesis in her just-published book, Phantom Menace or Looming Danger?: A New Framework for Assessing Bioweapons Threats (John Hopkins University Press, 2012). (I haven't had a chance to read Kathleen's book yet, but flipping through it, it is pretty fascinating — if you are interested in WMD-related issues, it is worth picking up.)
Everything regarding the reading and writing of DNA is getting phenomenally cheap, really quickly. There's been a blink-and-you-missed-it biological revolution over the last five years. It's been caused by a relatively small number of commercial players who have made DNA sequencing into an automated, computer-driven, cheap process.4 It will probably hit some kind of floor — real-world exponential processes eventually do — but still.
I don't have anything much against DNA sequencing getting cheap. (There are, of course, implications for this, but none that threaten to destroy the world.) DNA synthesis makes me pause — it is not a huge step from DNA synthesis to virus synthesis, and from there to other bad ideas. But as Kathleen emphasizes in her book (and in talks I've seen her give), it's not quite as easy as the newspapers make out. For now. We're still probably a few decades away from your average med school student being able to cook up biological weapons, much less biological Doomsday Machines, in a standard university research laboratory. But we're heading down that road with what seems to me to be alarming speed.
Don't get me wrong — I think the promises of a cheap revolution in biology are pretty awesome, too. I'd like to see cancer kicked as much, and maybe even more, than the next guy. I'm not anti-biology, or anti-science, and I'm not in fan of letting a purely security-oriented mindset dominate how we make choices, as a society. I don't necessarily think secrecy is the answer when it comes to trying to control biology — it didn't really work with the bomb very well, in any case. But I do think the evangelists of the new biology should treat these sorts of concerns with more than a knee-jerk, "you can't stop progress" response. I'm all in favor of big breakthroughs in medicine and biology, but I just hope we don't get ourselves into a world of trouble by being dumb about prudent regulation.
What disturbs me the most about this stuff is that compared to the best promises and worst fears of the new biology, nuclear weapons look easy to control. The bomb was the easy case. Let's hope that the next few decades don't give us such a revolution in biology that we inadvertently allow for the creation of Doomsday Machines on the cheap.
Notes