Security badges — identification pieces with photographs on them — are one of the more ubiquitous showings of a security state. In Washington, DC, where I live, they are an extremely common sight: a thick plastic card with a photograph and a name of an agency, strung on a garish lanyard around the neck of someone dressed extremely conservatively. Apparently among those inside this world, it is considered a standard practice to subtly glance down at the badges of other people you see around, comparing agencies, clearances, status.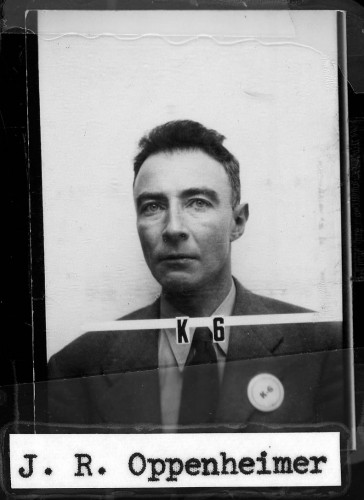 When did identification badges become so common? I'm not sure. Did they have them, say, in the secret facilities employed during World War I? I've never seen one. I've seen non-identifying badges — the equivalent of a police shield — but not ones with individual names and photographs. Presumably they had a way of indicating who belonged inside the secret areas and who belonged outside, but whether that was an identification card, a sheaf of papers, or something else, I've no clue. The photographic identification badge, worn at all times, seems to have come out of nowhere around the time of World War II, like so many things associated with the modern American security state.
At Los Alamos during the Manhattan Project — Project Y, as it was called — badges served multiple purposes. They said who was allowed inside the facility, sure. No badge, no entry. But they were also color-coded to describe the breadth of your access. Yellow meant that you could go into technical areas of the lab, but could receive no classified information — like guards. Blue was for people who needed classified information but not technical information — clerks and warehouse employees. Red was for people who could get some technical information within a highly compartmentalized state — technicians and secretaries.  White was for those who could know it all — everything that was to be done at Los Alamos. Early on, General Groves had wanted Los Alamos to be considerably compartmentalized, but Oppenheimer and others fought it. The result was that white badgers had the run of the lab, more or less, and could attend laboratory-wide colloquia.
The old Los Alamos badges of yore are declassified and have been digitized. They make for an interesting visual portrait of Los Alamos — one that likely nobody expected would ever be compiled and shared widely. They were internal documents for internal purposes, now opened up to history. It's tempting to read the character traits we expect into the expressions on the badges. Look at J. Robert Oppenheimer's badge, above. He looks small and vulnerable — brilliant but wary, burdened by heavy responsibilities.
By contrast, here is the young Richard Feynman, who looks serenely amused at the entire thing, completely unimpressed, a little bit wicked: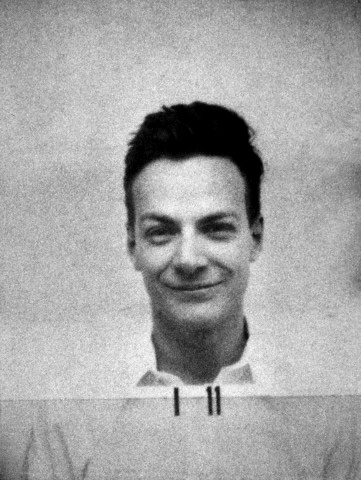 And then we have Klaus Fuchs, that cold fish. The spy who nobody suspected, a man whose mildness — even blankness — in appearance concealed a not-inconsiderable-amount of ideological belief and daring. The guy got beat up fighting Brownshirts in the streets of Germany, but you'd never guess it from his Los Alamos persona: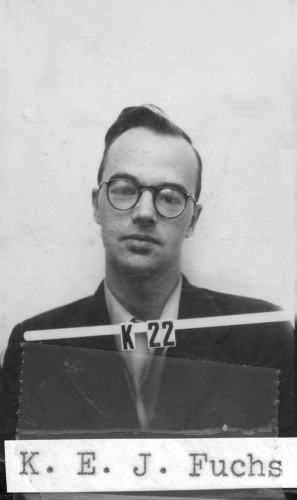 And the other major physicist-spy, Ted Hall, looks just as bored, irritated, and condescending as we'd expect from the boy-wonder Harvard undergraduate who decided that he alone could determine the fate of world affairs: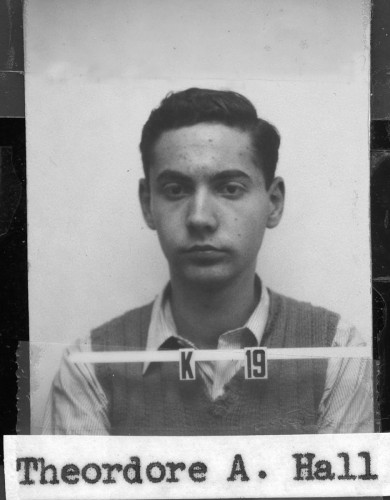 In case you're wondering whether poor Ted "Theordore" Hall was the only one with a really obvious misspelling on his badge photo, look no further: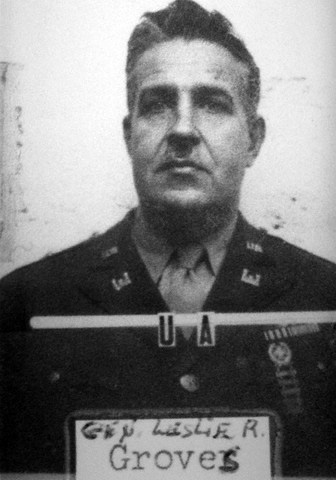 General Leslie R. Groves, overall head of the Manhattan Project, originally had "Grover" written on his identification tag. Which was apparently unnoticed until after the tag was glued on to the photograph, at which point it had to be corrected by hand. That's kind of sad. What's being the head of the Manhattan Project get you, if not some respect?
Sometime back, Los Alamos digitized a huge number of these staff photographs, though they are available only in practically microscopic dimensions online. There are some 1,229 badge photographs on the page — some of famous people, some of infamous people, and some of people that nobody has probably heard of since. It's a fun feature, though like most people who look at it, I've spent most my time hunting for the famous names (Fermi, Teller, Bethe) and ignore most of the others.
But it's exactly the others that make Los Alamos so interesting. It wasn't just a small cabal of world-famous physicists — it was a massive collection of physicists, mathematicians, chemists, metallurgists, physicians, engineers, technicians, secretaries, librarians, housekeepers, cleaners, nurses, laborers, and other people who are necessary to make a lab function.
Being a tech-savvy fellow I realized it would actually be pretty easy1 to extract all of the images from the LANL website and turn them into one giant composite image, which I present for you below — click the image to open it up.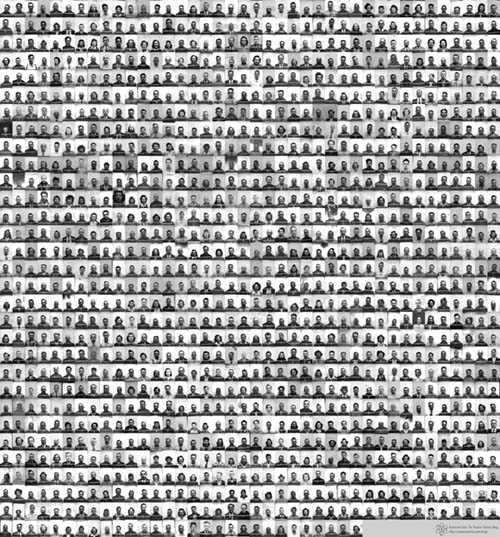 You should be able to click on the image to zoom or pan it, or use the controls at the bottom of the screen. It mostly seems to work on the iPad. (It struggles on old computers running old browsers, I'm sorry to say.) I highly recommend the full screen mode, enabled by clicking the little icon in the bottom right corner. The photo names are extracted programmatically from the filenames provided by LANL; there are some obvious typos, mistakes, and so forth that I haven't tried to correct. If it absolutely won't work for you, you can look at the full image here, but I warn you that it's a big file.
They are arranged in alphabetical order. Hunt around and you'll occasionally find a famous person, in a sea of the unfamous. Look at the sheer diversity of age, gender, and appearance. One is artfully blurred; there are at least two duplicate pairs — one is rather plain, while another shows a change in facial hair. (There is not much diversity in race, unsurprisingly. There are groups of Hispanic men in there — e.g., Lopez, Lopez, Lopez, and Lopez — but other than that, Los Alamos as represented here was a pretty "white" gathering. This is in stark contrast with Hanford and Oak Ridge, which used large numbers of African-American workers.)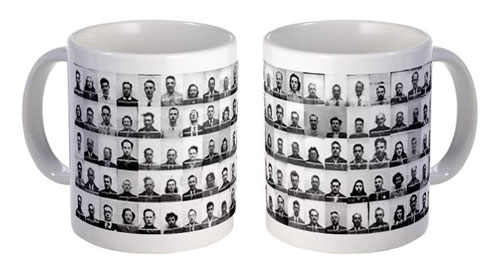 I thought this was pretty enough to make a mug out of it. For the mug, I picked out 95 faces — including all of the famous and infamous ones, along with some visually interesting ones — and wrapped them around a mug. There's no explanatory text, just faces, with an Oppenheimer and a Fuchs peaking out from among the crowd, plus a few people whose faces you probably don't know, but would be amused to find in there (like Sam Cohen, the "inventor of the neutron bomb").
If the anonymous crowd isn't your thing, there is also a mug of The Big Four of the nuclear scene — Oppenheimer, Teller, Groves, and Fuchs — and, just on the off-chance someone other than me would find wearing a Klaus Fuchs t-shirt amusing, some clothing designs with these fellows on them. All proceeds go towards supporting the blog.
Notes
I used DownloadThemAll plus ImageMagick Montage, if you are curious what goes into making this sort of thing. The image viewer was cobbled together from Microsoft's sadly defunct Seadragon Ajax library. [↩]