Redaction is one of those practices we take for granted, but it is actually pretty strange if you think about it. I mean, who would imagine that the state would say, "well, all of this is totally safe for public consumption, except for a part right here, which is too awful to be legally visible, so I'll just blot out that part. Maybe I'll do it in black, maybe in white, maybe I'll add DELETED in big bold letters, just so I know that you saw that I deleted it."
From a security perspective, it's actually rather generous. The redactor is often giving us the context of the secret, the length of the material kept from us (a word? a sentence? a paragraph? a page?), and helpfully drawing our eye to the parts of the document that still contain juicy bits. The Onion's spoof from a few years back, "CIA Realizes It's Been Using Black Highlighters All These Years," is only slightly off from the real truth. Blacking something out is only a step away from highlighting its importance, and the void makes us curious. In fact, learning what was actually in there can be quite anticlimactic, just as learning how a magician does their trick ("the guy in the audience is in on the trick").
And, of course, the way the US declassification system is set up virtually guarantees that multiple, differently-redacted copies of documents will eventually exist. Carbon copies of the same documents exist in multiple agencies, and each agency can be separately petitioned for copies of their files, and they will send them to individual reviewers, and they will each review their guides and try and interpret them. There's very little centralization, and lots of individual discretion in interpreting the guides.
The National Security Archive recently posted an Electronic Briefing Book that was very critical of this approach. In their case, they pointed out that a given paragraph in a once-secret document that was deemed by the redactor to be completely safe in 2001 was in 2003 deemed secret again, and then, in 2007, reaffirmed safe, and then, in 2012, again secret. "There often seems little logic to redaction decisions, which depend on the whim of the individual reviewer, with no appreciation of either the passage of time or the interests of history and accountability," writes Michael Dobbs.
This sort of thing happens all the time, of course. In the National Security Archive's Chuck Hansen papers there are bundles of little stapled "books" he would create of multiply, differently-redacted copies of the same document. They are a fun thing to browse through, viewing four different versions of the same page, each somewhat differently hacked up.
In the case of Hansen's papers, these differences came about because he was filing Freedom of Information Act requests (or looking at the results of other's requests) over extended periods of time to different agencies. The passage of time is important, because guides change in the meantime (usually towards making things less secret; "reclassification" is tricky). And the multiple sites means you are getting completely different redactors looking at it, often with different priorities or expertise.
Two different redactors, working with the exact same guides, can come up with very different interpretations. This is arguably inherent to any kind of classifying system, not just one for security classifications. (Taxonomy is a vicious profession.) The guides that I have seen (all historical ones, of course) are basically lists of statements and classifications. Sometimes the statements are very precise and technical, referencing specific facts or numbers. Sometimes they are incredibly broad, referencing entire fields of study. And they can vary quite a bit — sometimes they are specific technical facts, sometimes they are broad programmatic facts, sometimes they are just information about meetings that have been held. There aren't any items that, from a distance, resemble flies, but it's not too far off from Borges' mythical encyclopedia.
The statements try to be clear, but if you imagine applying them to a real-life document, you can see where lots of individual discretion would come into the picture. Is fact X implied by sentence Y? Is it derivable, if paired with sentence Z? And so on. And there's a deeper problem, too: if two redactors identify the same fact as being classified, how much of the surrounding context do they also snip out with it? Even a stray preposition can give away information, like whether the classified word is singular or plural. What starts as an apparently straightforward exercise in cutting out secrets quickly becomes a strange deconstructionist enterprise.
One of my favorite examples of differently redacted documents came to me through two Freedom of Information Act requests to the same agency at about the same time. Basically, two different people (I presume) at the Department of Energy looked at this document from 1970, and this was the result: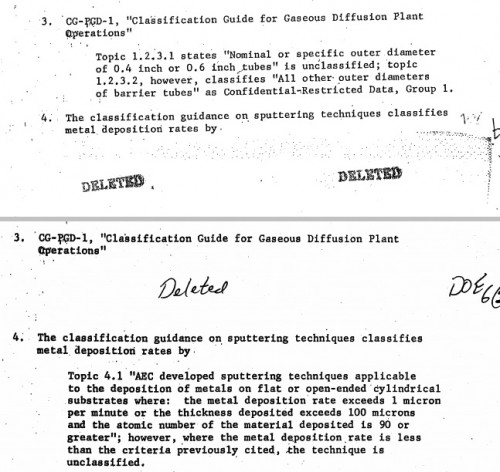 In one, the top excerpt is deemed declassified and the bottom classified. In the other, the reverse. Put them together, and you have it all.  (While I'm at it, I'll also just add that a lot of classified technical data looks more or less like the above: completely opaque if you aren't a specialist. That doesn't mean it isn't important to somebody, of course. It is one of the reasons I am resistant to any calls for "common sense" classification, because I think we are well beyond the "common" here.) In this case, the irony is double, because what they're de/classifying are excerpts from classification guides... very meta, no?1
What's going on here? Did the redactors really interpret their guidelines in exactly the opposite ways? Or are both of these borderline cases where discretion was required? Or was it just an accident? Any of these could be plausible explanations, though I suspect they are each borderline cases and their juxtaposition is just a coincidence. I don't actually see this as a symptom of dysfunction, though. I see it as a natural result of the kind of declassification system we have. It's the function, not the dysfunction — it's just that the function is set up to have these kinds of results.
The idea that you can slot all knowledge into neat little categories that perfectly overlap with our security concerns is already a problematic one, as Peter Galison has argued. Galison's argument is that security classification systems assume that knowledge is "atomic," which is to say, comes in discrete bundles that can be disconnected from other knowledge (read "atomic" like "atomic theory" and not "atomic bomb"). The study of knowledge (either from first principles or historically) shows exactly the opposite — knowledge is constituted by sending out lots of little tendrils to other bits of knowledge, and knowledge of the natural world is necessarily interconnected. If you know a little bit about one thing you often know a little bit about everything similar to it.
This is a good philosophical point, one that arguably is a lot stronger for scientific facts than many others (the number of initiators, for example, is a lot less easily connected to other facts than is, say, the chemistry of plutonium), but I would just add that layered on top of this is the practical problem of trying to get multiple human beings to agree on the implementations of these classifications. That is, the classification are already problematic, and now you're trying to get people to interpret them uniformly? Impossible... unless you opt for maximum conservatism and a minimum of discretion. Which isn't what anybody is calling for.
Declassification can be arbitrary, or at least appear arbitrary to those of us locked outside of the process. (It is one of the symptoms of secrecy that the logic of the redactor is itself usually secret.) But to me, the real sin of our current system is the lack of resources put towards it, which makes the whole thing run slow and leads to huge backlogs. When the system is running at a swift pace, you can at least know what it is they're holding back from you, compare it to other sources, file appeals, draw attention to it, and so on. When it takes years to start processing requests (as is the case with the National Archives, in my experience; it varies a lot by agency), much less actually declassify them, there is a real impediment to research and public knowledge. I'd rather declassification be arbitrary and fast than conservative and slow.
That individual redactors individually interpreting the guidelines according to the standards they are told to use come up with different results doesn't bother me as much. There is going to be a certain amount of error in any large system, especially one that deals with borderline cases and allows individual discretion. Sometimes you win, sometimes you lose, but it's being able to play the game in the first place that matters the most to me.
Notes
The document is a discussion of instances in which classification guidelines are based on strict numerical limits, as opposed to general concepts. Citation is: Murray L. Nash to Theos Thomson (3 November 1970), "AEC Classification Guidance Based on Numerical Limits," part of SECY-625, Department of Energy Archives, RG 326, Collection 6 Secretariat, Box 7832, Folder 6, "O&M 7 Laser Classification Panel. The top was received as the response to a FOIA request I made in 2008, the bottom another one in 2010. Both were part of FOIA requests relating to declassification decisions relating to inertial confinement fusion; the memo in question was part of information given to a panel of scientists regarding creating new fusion classification guidelines. [↩]