My least favorite section in the New York Times Magazine is the insipid "Who Made That?" column. In theory, it's a great idea for a regular feature. We're surrounded by gadgets and inventions with rich histories that we never think about. But in practice, the column always dwells on trivial inventions ("Who Made That Loofah Mitt? Sippy Cup? Kickstand?") and ones with boring stories at that (or, at least, they are stories boringly told). Most of the time, the story is, "some guy thought this was a good idea, then sold it out of his basement for awhile, and then it became successful, and now it is ubiquitous." Snore.1
There are a number of things wrong with this approach. One is that it reinforces a notion of the "lone inventor" that wasn't even very accurate by the late-19th century. Most American inventions (as measured by patents, for example) are generated in collaborative groups by corporations.2 The idea that invention, even American invention, is a product of quirky kooks is a romantic myth. Another issue is that it generally sees all of these as "solitary" instances of invention — rather than the more common cases of incremental development, cross-pollination, and so on. And yet another issue is that most inventions (again, measured by patents or whatever else you want to use as a proxy) are abject failures. That is, almost no patents end up turning a profit, almost no inventions end up being very successful. The Times column generally makes it sound like all one needs is a good idea, and it'll take off on its own. But the reality is much more weird and idiosyncratic than that. The columns end up being fluffy and trivial without being interesting, which to me is a cardinal sin. I mean, if you need to do something fluffy and trivial to get by, I understand that. But don't be boring about it.
The one good thing about "Who Made That?" is that usually it doesn't focus in on the few "canonical" inventions that everybody likes to talk about. There is some real value in getting away from the standard stories, as usual. We've heard so much about the invention of the atomic bomb. But when was the last time you heard about the invention of the firebomb? Obviously this is because one of these is a technological marvel, improbably created in an impressively short amount of time. I'm not knocking the bomb as the more interesting invention case. But the firebombs are impressive in their own way — and in a very deep sense, the story of their invention is the more shocking one, if only for its banality.
The atomic bomb represents, in a sense, a case of a special almost-one-off invention meant to be something novel and terrible. The firebomb, by contrast, is a weapon developed for a doing terrible things as a regular mode of operation. That is, the moral arguments in favor of the atomic bombs are usually structured in the form of "we had to do this twice in order to achieve a greater good." It's harder to do that with firebombs because we used them so many times. It's one thing to say, "ah, once or twice we had to target large numbers of civilians to make a point." It's another to make the targeting of civilians your everyday job, when you start measuring success less by knocking out specific military targets and instead by total area destroyed. So who made that firebomb? A now all-too-familiar mixture of American industry, universities, and government. The list of contractors involved in American incendiary weapons during World War II includes Brown University, University of Chicago, Du Pont, Eastman Kodak, Harvard University, Monsanto, Standard Oil Development, and Stanford University, among others, all working under the auspices of Vannevar Bush's Office of Scientific Research and Development, the Chemical Warfare Service, and other parts of the military.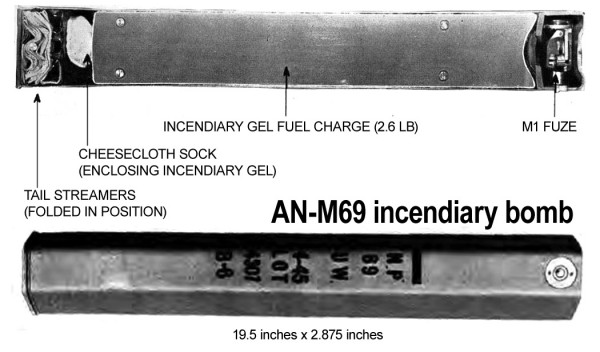 The incendiary raids against Japan dropped numerous types of bombs in different combinations. But the one to focus on, because of its ubiquity and importance in the Pacific theatre, is the AN-M69 Incendiary Bomb. This was a cluster-based napalm weapon created by the Standard Oil Development Company, specifically designed to destroy Japanese civilian houses. The most common cluster assembly (the M19) held 38 individual AN-M69s and would release them 5,000 feet above the target. The wind would catch their parachute streams, moving them apart from one another and orienting them nose-down. (Doing this would also arm the bombs by pulling out their safety plungers.) After impact, the bombs would wait 3 to 5 seconds, seemingly inactive. This is to make sure each one is lying on its side, so that, finally, a stream of burning napalm would be explosively blasted out of the tail: "If unobstructed, the burning fuel charge will travel up to 300 ft horizontally, and when it strikes a surface, the flaming fuel charge smears out producing a mass of flames 6 to 10 ft high."
Each B-29 could carry 40 clusters in their bomb bays. So that's 1,520 AN-M69s per plane, and the raids could range from dozens to hundreds of planes. You can do the math, there. Over 40,000 tons of AN-M69s were dropped on Japanese cities during the war. It took about 125 tons per square mile to completely burn out an area of a Japanese city. The AN-M69 had, a once-classified postwar report announced triumphantly, "the highest fire-starting efficiency per cluster, or per ton, or per bomber of any incendiary bomb" developed during the war.3
The AN-M69 wasn't the only incendiary bomb. I want to give a quick shout-out also to the E19 Incendiary Bomb, an 11 pound incendiary developed by my alma mater, Harvard University, as a combination of magnesium, oil, thermite, and white phosphorous. It didn't burn as well as the AN-M69, but had greater penetrating power. But, as the aforementioned report notes, "this factor diminished in importance as the war went on," presumably because we had stopped trying to directly target troublesome factories and military bases, and had instead moved on to targeting flimsy civilian structures. As a result, "the E19 bomb was never seriously considered for production." But don't worry Harvard, you still get some credit in the development of napalm (jellied gasoline) itself, as part of coordinated work with Eastman Kodak and Standard Oil Development. Some 80 million pounds of napalm were produced and used during the war.
Standard Oil Development's creation of the AN-M69 started in early October 1941 — almost exactly two months before the attack on Pearl Harbor. The initial instigation was to find a way to make incendiary weapons that did not involve large amounts of magnesium, which was in short supply. The work was funded by the Office of Scientific Research and Development. Much of the technical details (horizontal fuse, hexagonal assembly, etc.) are probably mildly interesting to engineers but for the rest of us are probably just of interest in that they are a banal, everyday description of how to develop an efficient weapon for burning lots of things (and people) up.
The ballistic properties, cluster dispersal patterns, failure rates, and the ability to set various types of target ablaze were, of course, meticulously tested. Reading the developmental history of the firebomb, one finds the names of no individual inventors, only the organizations involved. It is not a history of brilliance or ingenuity, though no doubt there were lots of little brilliant insights along the way. It is, rather, an engineering job. What makes it disturbing is that the engineering is very explicitly directed towards the destruction of civilian life. The main structures they were tested on were mock "German houses" and mock "Japanese houses." Not factories — houses. 37% of all "German houses" the AN-M69 were tested on were "beyond fire-guard control" within 6 minutes. For the more simple Japanese houses, it was 68%. The results of this testing, the report informs, "were used to make preliminary estimates of the quantities of incendiary bombs required to destroy Japanese cities."
The effects testing, done very carefully by both universities (Harvard again, along with the University of Chicago), corporations (Standard Oil Development, Texas Company), and the military (Ordnance Department) are also pretty grim. These involved mock bedrooms, with beds and boudoirs and even vanity mirrors, to simulate how effect these weapons would be against "Central German structures," "experimental Japanese rooms," and other models of homes. Just in case there was any lingering doubt as to what these weapons were meant to accomplish, and to put to rest the lingering misconception that the destruction of civilian life was an inadvertent consequence imprecise weaponry.
Some 4,400 tons of AN-M69s were dropped on Tokyo during two May 1945 bombing raids, destroying 22.1 square miles. The famous March 1945 raid destroyed 12.5 square miles with only 279 B-29 bombers.4 The area of the Hiroshima bombing where domestic houses were severely damaged was only 8.5 square miles, by comparison.
I don't want to sound naive about these things. Obviously, World War II was a state of "total war" by all sides, and very little was considered off-limits. But I still feel that too many Americans today don't take into account exactly what was done in the name of total victory — we still view World War II as the "good war" of the "Greatest Generation." Purposeful mass burning of civilians doesn't usually come into it. At the end of the day, I don't think I really believe in "good wars" — there are wars of necessity, and there are wars of "greater good/necessary evil." I don't think you get any better than that, unfortunately.
During the war, the inventive forces of the United States went to work to find creative engineering solutions to the problem of burning millions of civilians alive. I really don't want to use the phrase "banality of evil," since it has been so over-applied, and I don't really believe in "evil" as a useful historical concept, but there is certainly a terrible banality at work here when one reads about the work that went into crafting these unassuming little bombs. They are so less flashy, as inventions, than the atomic bomb, of course. But that doesn't make them any less worth our attention. Arguably, it is their "normal-ness" and their easy assimilation into regular military doctrine that makes them more important for us. The more interesting moral questions don't involve what one would do in exceptional situations, but one does in the every-day.
Notes
Tags: 1940s, Firebombing, Japan