For good reason, much has been made of the initial fear of a German atomic bomb. But there was another, lesser-known atomic fear as well. If the Germans could make nuclear reactors — which the Americans thought they were probably doing — could they not take the dangerously-radioactive spent-fuel out of them and use them to make dirty bombs? 
In the summer of 1942, Arthur Compton, head of the University of Chicago's Metallurgical Laboratory, wrote a memo to Harvard President and atomic-bomb big-wig James B. Conant expressing the need for "protection against ionizing bombs":
We have become convinced there is real danger of bombardment by the Germans within the next few months using bombs designed to spread radio-active materials in lethal quantities. … Since protection against the danger from such bombs will be primarily a matter of detection of radiation and instruction with regards to the dangers, it is essential that the matter be brought at once to the attention of the appropriate military officers.1
Compton and his scientists were, at the time, working under the assumption that the Germans were ahead of the Americans, and had already gotten a nuclear reactor running. They estimated that with a 100 kilowatt reactor, 100,000 Curies of radioactivity could be produced daily for bomb usage.
A result of this was that in the fall of 1942, the first steps were taken to, at a minimum, detect whether the Germans used any kind of radiological attack against the Allies. Survey meters were developed that would trigger alarms if they detected high levels of radioactivity. These were secretly dispersed to Manhattan District offices in Boston, Chicago, New York, San Francisco, and Washington, DC. At each location, a small number of officers were trained in their use. Further instruments were held in reserve in case they needed to be deployed further. If the alarms went off,  or if there were other suspicious signs (like reports of a large-scale blackening of photographic film), scientists at the University of Chicago were kept on the ready to be brought in to assess the situation.2
This was a fairly small program, as far as they go. Those involved were acutely aware that the secrecy of the atomic bomb made it impossible to adequately prepare for this possibility. They were stuck in a bind that was very common during the wartime period. The atomic bomb was, at that time, what I like to call an "absolute secret": the fact that there was a "secret" at all was itself a secret. They could not draw attention to matters relating to atomic energy without drawing attention to the fact that they were engaged in a secret research program with regards to atomic energy. This is a very peculiar situation, one primarily specific to the war, when the secrecy of the project could not be acknowledged (they could not simply say, "oh, the details are secret," as they could in the Cold War).
What did they think the Germans would do with such a radiological weapon? They considered four possibilities. First, it could be used as an "area-denial" weapon, by making areas uninhabitable. Second, it could be used to contaminate critical war infrastructure (e.g. airports). Third, it could be used as a "radioactive poison gas" to attack troops. Fourth, it could be used "against large cities, to promote panic, and create casualties among civilian populations."3 Their assessment of the effects, by 1943, was grim:
Areas so contaminated by radioactive material would be dangerous until decay of the material took place, perhaps for weeks or months. … As a gas warfare instrument the material would be ground into particles of microscopic size to form dust and smoke and distributed by a ground-fired projectile, land vehicles, or aerial bombs.  In this form it would be inhaled by personnel.  The amount necessary to cause death to a person inhaling the material is extremely small.  It has been estimated that one millionth at a gram accumulating in a person's body would be fatal.  There are no known methods of treatment for such a casualty.4
In the time-honored method of worrying about threats, they also then immediately realized that maybe the United States should be weaponizing fission products: "It is the recommendation of this Subcommittee that if military authorities feel that the United States should be ready to use radioactive weapons in case the enemy started it first, studies on the subject should be started immediately." Note that this isn't really a deterrent capability, it is a response capability. Deterrence requires your enemy knowing that you have the capability to respond, and secrecy precluded true deterrence.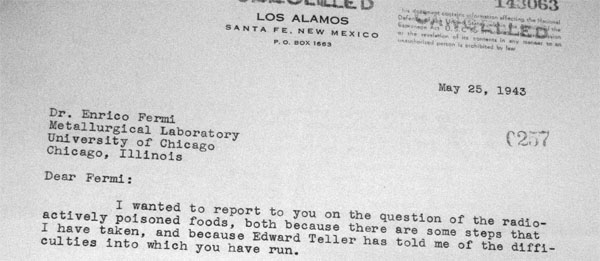 In this context, there is an interesting letter in the J. Robert Oppenheimer papers at the Library of Congress, where Oppenheimer is writing to Enrico Fermi in May 1943 on "the question of radioactively poisoned foods." From the context, it is clear that both Edward Teller and Fermi had devoted time to this project. The full document is available here. Two parts stand out. One is that one of the acute problems in looking into the issue was, as Oppenheimer put it, difficult to study the subject "without telling anyone about it." That is, it would be hard to investigate some of the substances in question "without letting a number of people into of the secret of why we want" the substances. The "absolute secret" bind again.
The other is Oppenheimer's criteria for the project being worth looking into:
…I think that we should not attempt a plan unless we can poison food sufficient to kill a half a million men, since there is no doubt that the actual number affected will, because of non-uniform distribution, be much smaller than this.5
Frank Oppenheimer later called this a very "bloodthirsty" statement by his brother; the historian Barton Bernstein instead argued that this was just scientists trying to help the war effort.6 Either way, it makes Oppenheimer look like a very cold fish indeed. And not much of a "dove." Even if one isn't clear how much of a "non-uniform distribution" he was assuming.

The offensive angle was basically dropped — they didn't think they'd need it, and they were focused intently on making the actual atomic bomb, a much more devastating weapon. But defensive measures did proceed. By late 1943, it was thought that the use of radioactive poisons against the UK by the Germans was of low probability, but an unpleasant possibility.7 To avoid being completely taken by surprise in such an event, General Groves (with the concurrence of General Marshall) had four officers from the European Theater of Operations staff briefed on the subject "under most complete secrecy," and a Manual on Use of Radioactive Materials in Warfare was drawn up for these four officers. Signals officers were instructed to report any "peculiar or unexplained effects" on photographic films or personnel, and the officers in question were given radiation detection instruments to use in the case of suspected cases.
In March 1944, General Groves had the matter brought to the attention of General Dwight D. Eisenhower, commanding general of the Supreme Headquarters Allied Expeditionary Force, fearing that the Nazis might use such weapons to prevent an Allied invasion of Europe. Eisenhower concluded that since the Combined Chiefs of Staff had not brought up the issue, that they must consider that "the enemy will not implement this project." To keep secrecy, in order to "to avoid a possible scare," Eisenhower informed only a handful of people, which he acknowledged was not really enough to counter "enemy action of this nature": "No US or British Commander participating in OVERLORD [the landing at Normandy] has been briefed." However, radiation detectors were being kept in the UK for deployment on short notice, and a "cover" letter was sent out with symptoms of radiation poisoning listed as a "mild disease of unknown etiology" that was going around, requesting any medical officers to report further cases.8
The plan to deploy radiation monitoring during the D-Day invasions was dubbed "Operation Peppermint," one of the more amusing code-names of the war. Dry runs of the detection apparatus were taken before D-Day, and German bomb craters were surveyed for radioactive residues, but since no evidence of German radiological weapons preparations or use were uncovered, the "Peppermint" preparations were never put into effect. 
We now know that the Germans never got anywhere near this kind of plan. They didn't even get a reactor running by the end of the war, the necessary prerequisite for this kind of operation. It wasn't a totally crazy fear, though. There are aspects of radiological warfare which would make it preferable to, say, chemical warfare from the German point of view. Still, there's an aspect to this of the old saying, "when the only tool you have is a hammer, every problem looks like a nail." When you're studying radioactive hazards intently, every threat looks like a radioactive hazard.
The secrecy angle is what intrigues me the most about this story: the secrecy of the bomb made it difficult to enact serious preparation from this related, but separate threat. The secrecy of one fear made addressing another fear difficult, because the relevant information of both fears were too deeply entangled. 
Notes