If the atomic bomb had been ready earlier in World War II, would it have been used against Nazi Germany? This is one of the great atomic "what if's" — a hypothetical, counter-factual historical question that obviously can't be answered because that's not how history worked out, we can't reshuffle the past around, and so on. Anything overtures in such a direction are just speculation. But it can be informed speculation — and, more importantly, it can highlight little-known aspects of history. And that, in my mind, makes it worth indulging in, at least on a blog.
The question is an interesting one for numerous reasons. At its heart, it gets at the question of how contingent all of this was. The primary factor that determined when the first atomic bombs were ready for use was when the serious program of their production started. If the Americans had been convinced in 1940, rather than 1941, that an atomic bomb was worth seriously pursuing, then the Gadget might have been ready by July 1944, not July 1945. Could they have been convinced that early on? I see no reason why not — the British scientists had drawn that conclusion by then.
Up until early 1944, the bomb was still talked about as if it were going to be a deterrent against Germany. By August 1943, for example, Vannevar Bush was still reporting to Roosevelt that the Germans might be ahead, or at least neck-and-neck in the "race" for the bomb: "This may result in a situation where it will be necessary for us to stand the first punishing blows before we are in a position to destroy the enemy." By early 1944, Groves had decided that the Germans having a bomb was "unlikely," but that it still needed to be held out as a possibility. By late 1944, it was clear, from the Alsos mission, that Germany was nowhere near an atomic bomb — and indeed, they soon learned that the German program was in 1945 not even as far as where the Americans had gotten by the end of 1942. I put this out just as context for their thinking. Over the course of late 1943 through 1944, the bomb shifted from being a deterrent to a first-strike weapon — a weapon that was meant to be used, not held in reserve. So who would it strike?
The very earliest discussion of targets of any sort was held in May 1943. As the last item of a much longer meeting, talking about all sorts of other matters (like spreading around fake stories about what was going on at Los Alamos, E.U. Condon's resignation from the project, and construction of the various enrichment and production plants), a group composed of Groves, Vannevar Bush, James B. Conant, Admiral William Purnell, and Major General Wilhelm Styer had this discussion:
The point of use of the first bomb was discussed and the general view appeared to be that its best point of use would be on a Japanese fleet concentration in the Harbor of Truk. General Styer suggested Tokio but it was pointed out that the bomb should be used where, if it failed to go off, it would land in water of sufficient depth to prevent easy salvage. The Japanese were selected as they would not be so apt to secure knowledge from it as would the Germans.1
This has sometimes been cited as evidence that Japan was "always" the target. Personally, I think this seems like too loose of a discussion to draw big, concrete conclusions from. It was still over two years before the first atomic bomb would be ready, and, again, it is tacked on to a much longer meeting that is concerned with much more basic, much more practical things, like whether J. Robert Oppenheimer will get an administrative assistant assigned to him. But, still, it's a data point. Note that the context, here, of choosing Japan over Germany is reflective of how uncertain they are about the bomb itself: they are worried that the first one will be a complete dud, and so their choice here is that if a dud were to land in Germany, it would be more dangerous thing than if it were to land in Japan.
Note that "the Harbor of Truk" (Chuuk Lagoon) is not a target on the Japanese home islands — it is in Micronesia, far south of the Japanese mainland, north of New Guinea. During World War II it was the Japanese equivalent of Pearl Harbor. It was a purely military, tactical target, not a strategic one. And by the time an atomic bomb was ready, it had been made irrelevant by Allied attacks and isolation (though it was still under Japanese occupation).
The first concrete discussion of targets came in the spring of 1945. These are the famous "Target Committee" meetings at Los Alamos which discussed what kind of target criteria they were using, what cities might fit it, and so on. Grim business, but entirely focused on Japan, in part because by that point it was clear that Germany's defeat was imminent.
Is there any evidence that anyone in power would have considered atomic bombing Germany, though, had they the ability? The only insight I've found on this comes from a postwar interview that General Groves gave, sometime in the early 1960s:2
REPORTER: General Groves, could we go back for a minute. You mentioned in your book [Now it Can Be Told] that just before the Yalta Conference that President Roosevelt said if we had bombs before the European war was over he would like to drop them on Germany.3 Would you discuss this?

GROVES: At the conference that Secretary Stimson and myself had with President Roosevelt shortly before his departure, I believe it was December 30th or 31st of 1944, President Roosevelt was quite disturbed over the Battle of the Bulge and he asked me at that time whether I could bomb Germany as well as Japan. The plan had always been to bomb Japan because we thought the war in Germany was pretty apt to be over in the first place and in the second place the Japanese building construction was much more easily damaged by a bomb of this character than that in Germany. I urged President Roosevelt that it would be very difficult for various reasons.

The main one was that the Germans had quite strong aerial defense. They made a practice, as every nation does, that when a new plane came into the combat area, that they would run any risk that they could to bring such a plane down so that they could examine it and see what new ideas had come in so that they could make improvements and also would know the characteristics of the plane so that they could prepare a better defense against it. We had no B-29's in Europe. If we had sent over a small squadron or group as we did against Japan of this type, everyone of them would have been brought down on the first trip to Germany. If they hadn't been, it would have been through no lack of effort on the part of the Germans.

The alternative would be to bring a large number of B-29's over to to England and that would have been a major logistical task and the other possibility would have been to have used a British plane which would not have been a bit pleasing to General Arnold and also would have created a great many difficulties for our general operation because then it would be an Allied operation with the United States furnishing the bombs and everything connected with it but using a British plane and a British crew to actually drop the bomb and it would have raised a tremendous number of difficulties.

And difficulties like that — while you say you should be able to handle that — you can but in a project of this character there are so many little things, each one of them key, that you can't afford to throw any more sand into the wheels that you can help.

The bombing of Germany with atomic bombs was, I would say, never seriously considered to the extent of making definite plans but on this occasion I told the President, Mr. Roosevelt, why it would be very unfortunate from my standpoint, I added that of course if the President — if the war demanded it and the President so desired, we would bomb Germany and I was so certain personally that the war in Europe would be over before we would be ready that you might say I didn't give it too much consideration.
Now this is an interesting detail, is it not — that FDR himself was interested in whether they could drop an atomic bomb on Germany? One has to always question postwar recollections, especially the General's, but this has the ring of authenticity to it. I don't think Groves would fabricate memories of conversations with Roosevelt. At this meeting, Groves had thought that the first uranium bomb (Little Boy) would be ready by late July, and that the first plutonium bomb would be ready by early August — far too late for use in the European war. But it is worth contemplating Roosevelt's intentions. Did he really want to drop this bomb, or was he trying to figure out what exactly the USA's chips were before entering into discussions with the Soviets? Would Roosevelt have made the same concessions to the Soviets that he ended up making, had he thought the US had an atomic bomb at the ready? Would he have insisted that the Soviets enter the Pacific war? More hypotheticals than I can deal with, but it does add an interesting wrinkle to the discussion.
Groves' argument against using a bomb in the European theatre is also interesting. Essentially he is saying that the choice not to deploy B-29s in Europe, and the choice of the B-29 as the weapon for the atomic bomb (a decision made in late 1943), had profound practical consequences. It is easy to forget that the first atomic bombs could not be dropped out of just any old plane. They were huge by the standards of World War II: the Fat Man bomb was a single, 10-foot-long, 5-foot-wide weapon that weighed over 5 tons. Neither the B-17 nor the B-24 could carry such a load in weight alone, much less in one fat bomb. The Little Boy boy bomb was just as long, weighed a little less, and did not have as large a diameter. It was also a bit over the maximum load ever carried by those other planes. The British Avro Lancaster bomber could have carried Little Boy, though — the Tall Boy and Grand Slam bombs were larger than Little Boy, though with much smaller diameters than Fat Man. My guess is that the Lancaster's bay was too narrow for Fat Man.4
Does one buy Groves' reasons? Part of me is suspicious that his justification has the feel of a post facto justification to it — it's just a little too thought out for a quick reply to Roosevelt. If I were to guess, it was the fact that he didn't expect the bombs to be ready anytime soon, and didn't want the obligation of trying to get one ready for use against Germany, that really was the reason for him not wanting FDR to think that the bomb might be ready for that piece of the war. Having one ready to drop on Japan by August 1945 proved to be a tough job as it was.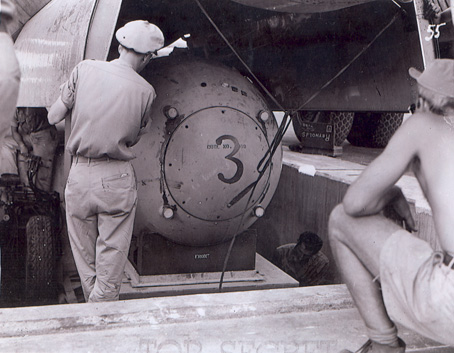 Was racism a factor? This sometimes gets asked as well. One of the tricky things about racism is that it only rarely factors into reasoning explicitly. I've seen nothing in the discussions of the people in charge of target selection that make me think that racism played any kind of overt role in the decisions they made — at least, in the sense that they would have dropped the bomb on the Japanese but would not have dropped it on the Germans. It doesn't mean it didn't, of course — just that I haven't seen any real evidence of it. This is an entirely separate issue from whether racist dehumanization was encouraged for the populace and the troops (it obviously was). But, again, I don't see any evidence to support the idea that the Americans would not have used atomic weapons against the Germans because they were whites, but would have used them against the Japanese because they were not. The Allies clearly were willing to massacre German civilians, as they did drop firebombs on several German cities, though that obviously does not tell the whole story.
So what's the take-away answer? The long and short of it is, of course, that they didn't have the bombs ready to use in the European theatre, knew they wouldn't from fairly early on, and so never took the time to try and clarify the logistical issues that would have made it practicable. But Roosevelt's question to Groves does leave open the possibility that they might have done it, if all of those things had turned out differently.
Notes
Tags: 1940s, Counterfactuals, Franklin D. Roosevelt, Germany, Leslie Groves, Manhattan Project