Richard Greening Hewlett, the first official historian of the Atomic Energy Commission, has passed away at the age of 92.1
I never knew Hewlett, but nobody can work in this field without acknowledging the huge debt they owe him for his work. Hewlett began working for the Atomic Energy Commission (AEC) in 1957, working to write a volume on the Manhattan Project and establishment of the AEC. In doing so he was also establishing the History Office of the AEC, which was dedicated to cataloguing and preserving these vital records. One of his greatest coups was discovering, entirely by chance, a locked safe in a basement of an AEC building that turned out to contain the Bush-Conant files relating to the creation of the atomic bomb, one of the most important document bases for any history of the Manhattan Project (and one which I have relied upon extensively).
Hewlett continued at his post through the abolishment of the AEC and the subsequent creations of its successors, the Energy Research and Development Administration and the Department of Energy. He retired in 1980, and went on to co-found History Associates, one of the only private companies dedicated to doing serious historical work.
Hewlett's volumes on AEC history are extremely useful resources, and I end up citing them often. They can be tricky to work with, though, since Hewlett was not always able to cite his sources very precisely (on account of many of them being classified or kept internally), and the sort of "official historian" he was meant that he rarely strayed too far beyond the most "orthodox" versions of these histories (he was never courting controversy). I have found in many instances that when I look up a document that Hewlett cited, it turns out that he basically just paraphrased what the document said and presented that as what happened — and sometimes that is valid, sometimes that is not. Documents require their own contextualization, their own careful reading, to get the full story, and Hewlett's approach can feel a little naive in retrospect. It is an old-style of history, official or not.
Still, he was essentially carving out the first draft of this historical work, and approaching it seriously, and that required a Herculean effort in its own right, both in terms of collecting the source material and navigating the federal bureaucracy to get these histories published. In a 1997 interview with Public Historian, Hewlett described how Admiral Hyman G. Rickover essentially abused classification restrictions in order to force Hewlett to write a book on the nuclear Navy, with Rickover at the center of it. Hewlett ran into further complications later when he attempted to write about nuclear waste — a topic that does not make the AEC look extremely on top of things.2
I've read a number of narratives from public historians working with secret topics. It seems like a tricky prospect. Barton Hacker, who wrote on the history of radiation exposure and protection, told me that his security clearance rarely got him anything that wasn't basically already knowable from the "outside," and caused interminable difficulties when he tried to get things published that made anybody currently in office, or any still-existing agency, look anything but perfect. As he put it later, some bureaucrats "objected to what they called 'editorializing,' which seems to be the bureaucratic term for drawing conclusions."3
I have never wanted a security clearance, and would never accept one, for this reason. To learn something interesting but not to be able to tell anyone about it seems like a bad exchange. I want to know things, but I also want to tell things — storytelling is my profession, in a sense. To get a clearance means you are in an entirely different category from the perspective of a classifying agency, and even innocuous information that everybody knows can end up on the cutting-room floor. No thanks.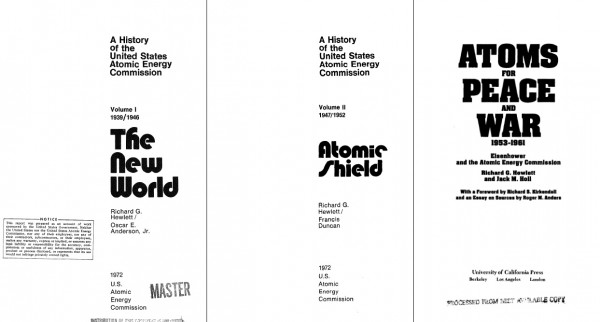 Hewlett's AEC histories are all scanned and online, posted in various archives by the US federal government, some on the Department of Energy's History Publications page. Because they are all in the public domain (they are all "work for hire" for the US government, which makes them uncopyrightable), and they are all out of print, I am going to mirror them here:
I find these scanned copies perhaps most useful of all, because they are searchable. The Hewlett volumes can be dull reads in places (he embodies a certain model of official historian that tries to keep up an appearance of "just the facts"), but they make excellent resources to run keyword searches through. It is too bad nobody has really tried to do one of these kinds of volumes for the final chapter of the AEC's history (1962-1974).4
The source note to The New World has one of my favorite lines about nuclear history and the reason why there are more resources that one might expect:
The records have survived. For this, scholars can thank two much-maligned practices of the bureaucracy: classification and multiple copies. Classified documents endure; they do not disappear from the files as souvenirs. As for copies in sextuplicate, their survival is a matter of simple arithmetic. If the original in one agency is destroyed, the chances are better than even that one of the five carbons will escape the flames in another.5
To this we must add that people like Hewlett took the time to track them down, catalogue them, and get them eventually transferred into repositories (like the National Archives and Records Administration, for all their difficulties). This final action, so crucial for the later historian, does not happen on its own. This may be Hewlett's greatest legacy in the end. The texts he wrote will inevitably be superseded by later works of history — but those superseding works will be utterly reliant on the preservation work he did, those acts of finding and saving and cataloging of the records. Rest in peace.
Notes