Fears of a German nuclear weapons program were the initial motivating concerns behind pushes in both the United States and the United Kingdom. Leo Szilard and Albert Einstein in the United States, and Otto Frisch and Rudolf Peierls in the United Kingdom, among others, were worried sick of the prospect of a Nazi atomic bomb. That these scientists were European émigrés of Jewish descent played no small role in their fears.
But eventually we came to find that the German atomic bomb project was stillborn. The Germans had a modest atomic power project, researching nuclear reactors, but were in no great rush for an atomic bomb. Of course, they are not necessarily unrelated projects — you can use nuclear reactors to produce plutonium. But it would require a much greater effort to do so than the Germans were engaged in. By any metric, the Germans were involved in a research program, not a production program. Their work was relatively small-scale, not a crash effort to get weaponized results.1
When did Manhattan Project officials know that the German program was not a serious threat, though? That is, when did they know that there was virtually no likelihood that the Germans would develop an atomic bomb in time for use in World War II? This is a question I get a lot, and a question that comes up in this season of Manhattan as well. It's an important and interesting question, because it marks, in part, the transition from the Anglo-American bomb project from being an originally defensive project (making an atomic bomb as a deterrent against a German bomb) to an offensive one (making a bomb as a first-strike weapon against another non-nuclear country, Japan).
What makes this a tricky question to answer is that the word "know" is more problematic than it might at first seem. Historians of science in particular, because we are historians of knowledge, are quite aware of the ways in which "knowing" is less of a binary state than it might at first appear. That is, we are ordinarily accustomed to talk about "knowing" as if it were a simple case of yes or no — "they knew it or they didn't." But knowledge often is more murky than that, a gradient of possibilities. One might have suspicions, but not be sure. The amount of uncertainty can vary in all knowledge, and sometimes be deliberately encouraged or exaggerated to create a space for action or inaction. One's knowledge can be incomplete or partially incorrect. And there are many different "levels" of knowledge — one might "know" that the Germans were working on reactors, but not know to what ends they were intending to use them.
At one end of the "knowledge" question, we can point to the success of the Alsos mission. Alsos (Greek for "Groves") was an effort in which Allied scientific and intelligence officers moved into German sites along with the invading troops, seizing materials, facilities, and even scientists (the latter being eventually detained at Farm Hall). By November 1944, Samuel Goudsmit, the scientific leader of the Alsos mission, had concluded that the German program appeared stillborn. By the spring of 1945, of course, they had made sufficient progress into Germany to know for sure. So that is a definite back-end on when they "knew" that the Germans had no bomb.2
But what did they know before that? At what point did the Germans stop being the fear that they had once been? This is the far more interesting, trickier question.
Among the American scientists, the fears of a German bomb peaked sometime in mid-1942. This, not coincidentally, is exactly when the Americans decided to accelerate their program from the research phase into the production phase: when their work changed from thinking about whether atomic bombs were possible to actually trying to build them. As the Americans became more convinced that atomic bombs were feasible to build in the short-term, they became more worried that the Germans were actually building them, and might have started building them earlier than the Americans. Arthur Compton, Nobel Prize winning physicist and head of the University of Chicago Metallurgical Laboratory, wrote several particularly impassioned memos in the summer of 1942, urging an acceleration of atomic work largely out of fears of a German bomb:
"We have recently become aware that the threat of German fission bombs is even more imminent than we supposed... If the Germans know what we know — and we dare not discount their knowledge — they should be dropping fission bombs on us in 1943, a year before our bombs are planned to be ready."3
Compton's fears appear genuine, and rest on the conservative assumption that the Germans were just as smart, and just as aware of the possibilities, as the Americans. (And we know that they were, in fact, aware of all of these possibilities at the exact same time — but the Germans judged the effort more difficult, and more risky, than the Americans did.) There is no other basis for Compton's assumptions, as he had no access to intelligence information on German efforts (and, indeed, his memo calls for more work in that field). But they were also self-serving, because they encouraged more effort towards his own goal, which was to accelerate the American bomb program. Compton was not at all alone in these fears; Harold Urey, James Conant, and Ernest Lawrence were all quick to point out that the American effort had been relatively slow to start, and that the Germans had clever scientists who ought not be underestimated.
Up until 1942, these fears were not, arguably, unwarranted. The Germans and the Americans were in similar positions. But, in a touch of irony, at the moment the Americans decided to switch towards developing a workable bomb, the Germans instead were deciding that they no longer needed to prioritize the program. They had concluded it would be an immense effort that they could ill afford to undertake, and that it was extremely unlikely that the Americans (or anyone else) would find success in that field.
So when did the picture change with regards to US knowledge, and who was told? Over the course of 1943 and 1944, more and more intelligence was gathered that, added up, began to suggest that the Germans did not have much of a project. In late 1943, General Leslie Groves appointed a specific intelligence group to try and suss out information about the enemy's work. One of their avenues of approach was better collaboration with the intelligence services of the United Kingdom, who had far better networks both in Germany and in neutral countries than did the Americans. They even had a spy within Germany, the Austrian chemist Paul Rosbaud, who worked at Springer-Verlag, the scientific publisher. By the end of 1943, the British had concluded that the German program was not going anywhere. They were able to account for Heisenberg's movements all too easily, and there seemed to be no efforts to industrialize the work on the scale necessary to produce concrete results in the timescale of the war. This information was duly passed on to the Manhattan Project intelligence services.4
Did it have any effect? Not immediately. The Americans were not entirely sure whether the British assessments were accurate. As Groves put it in a memo to Field Marshall John Dill in early 1944:
We agree that the use of a TA ["Tubealloys" = atomic] weapon is unlikely. The indirect and negative evidence developed by your agencies to date is in support of this conclusion. But we also feel that as long as definite possibilities exist which question the correctness of this opinion in its entirety or in part we cannot afford to accept it as a final conclusion. Repeated reports that the enemy has sufficient raw material and the fact of the early interest of enemy scientists in the problem must be explained away before we can safely disregard the possible use of this weapon.5
Groves was being conservative about the intelligence — none of it definitely proved that the Germans weren't working on a bomb, they just were reporting that they couldn't see a bomb project. This is a common bind for interpreting foreign intelligence: just because you don't see something, doesn't mean it isn't there (you may have missed it), but on the other hand, proving a negative can be impossible. (This problem, as I am sure the reader appreciates, still exists with regards to alleged WMD programs today.) In Groves' mind, until there was really zero basis for doubt, they had to proceed as if the Germans were building a bomb.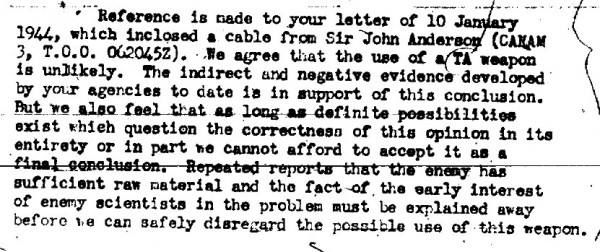 But over the course of 1944, there are many accounts which indicate that the Americans at the top of the project, at least, were fearing a German bomb less and less. When Secretary of War Henry Stimson briefed several select Congressmen on the bomb work in February 1944, he had emphasized that "we are probably in a race with the enemy." By contrast, when he briefed some of the same Congressmen that June, Stimson told them that "in the early part of this effort  we had been in a serious race with Germany, and that we felt that at the beginning they were probably ahead of us." Note the past tense — at this point, they were using the fears of the German bomb project to justify their earlier efforts, not their current ones. Vannevar Bush, who was at the meeting, emphasized in his notes that he told the Congressmen a bit more about "what we know and do not know about German developments," but concluded with the thought that since the Allies began the heavy bombing of German industrial sites, the odds were that the Americans were "probably now well ahead of them."6
Finally, in late November 1944, Samuel Goudsmit, head of the Alsos project, concluded that after inspecting documents, laboratory facilities, interviewing scientists, and doing radiological surveys of river water, that "Germany had no atom bomb and was not likely to have one in a reasonable time." This was reported back to Groves, who appears to have not been entirely convinced until the total confiscation of German material and personnel was completed in the spring of 1945 and the end of the European phase of World War II. Even Goudsmit was unsure whether the conclusion was justified until they had confirmed it with further investigations.7
By the end of 1944, even the scientists at Los Alamos seem to have realized that Germany was no longer going to be the target. Joseph Rotblat, a Polish physicist in the British delegation to the laboratory, was the only one who left, later saying that "the whole purpose of my being in Los Alamos ceased to be" once it was clear the Allies weren't really in a "race" with the Nazis.8
So, in a sense, the final confirmation — the absolute confirmation — that the Germany didn't have an atomic bomb only came when the Germans had totally surrendered. By late 1944, however, it had become clear that their bomb project was, as Goudsmit put it, "small-time stuff." By mid-1944, the top American civilian official (Stimson) was already minimizing the possibility of German competition. By the end of 1943, British intelligence had concluded the German program was probably not a serious one. We have here a sliding scale of "knowledge," with gradually increasing confidence, with no clear point, except arguably the "final" one, to say that the Allies "knew" that they were not in a race with the Germans. For someone like Groves, it was convenient to point to the uncertainty of the intelligence assessments, because the possibility of a German bomb, even one very late in the war, was so unacceptable that it could be used to justify nearly anything.
How much does it matter? Well, it does complicate the moral or ethical questions about the bomb project. If you are making an atomic bomb to stop Hitler, well, who could argue with that? But if you are making a bomb to use it against a non-nuclear power, to use it as a military weapon and not a deterrent, then things start to get problematic, as several scientists working on the project emphasized. Even Vannevar Bush, who supported using the bomb on Japan, emphasized this to Roosevelt in 1943, telling the President that "our point of view or our emphasis on the program would shift if we had in mind use against Japan as compared with use against Germany."9
The degree to which the goals of the atomic bomb program shifted — from building a deterrent to building a first-strike weapon — is something often lost in many historical descriptions of the work. It makes the early enthusiasm and later opposition of some of the scientists (such as Leo Szilard) seem like a change of heart, when in reality it was the goals of the project that had shifted. It is, in part, a narrative about the shifting of perspective from Germany to Japan. Like the Allied knowledge of the German program, it was not an abrupt shift, but a gradual one.
Notes