Old bomb casings are just that perfect outdoor arrangement for your museum about war. And hey, let's be honest: we've got quite a few of them left over from the Cold War. Might as well use them for something!
Today's photo of the week is the installation of a Fat Man casing at the Los Alamos Science Museum:1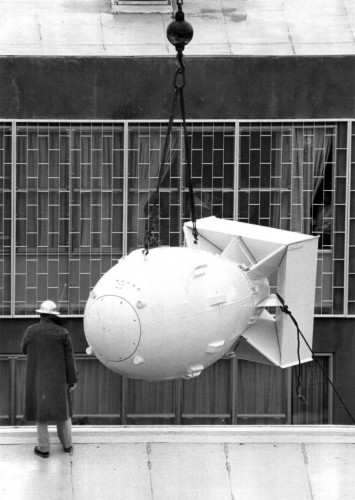 I love this photo for it's wonderful contrast of tone, and the man-meets-bomb aspect. It also highlights how physically large the Fat Man bomb was, something that can get lost when you see photos of it in isolation. I'm not sure if the bomb is literally whitewashed here, or if that's just how it looks in a black and white photo, but that's a nice aspect, too.
Some more thoughts on atomic bomb casings and their public history follow after the jump.
Notes
Source: National Archives and Records Administration, Still Pictures Branch, 454-RF-30. [↩]