Jeffrey Lewis recently posted at ACW a rare piece of stationery that contains the seal of the General Department of Atomic Energy in North Korea. I thought it was interesting:

It's basically the Juche Tower surrounded by some standard graphical representations of electron orbitals. (I also learned, from talking to a friend last week, that the North Korean missile names like Taepodong-2, Nodong, etc., are Western designations given based on the region in which they were first seen by intelligence agencies. The exception to this so far was the Unha-3 rocket that fizzled yesterday, which got its name from the fact that it basically had "Unha-3″ written on the side of it. Unha apparently means something like Galaxy or The Milky Way. All of this was news to me, but I'm not a Korea-watcher. But I'm digressing.)
It got me thinking back to a topic I'm perennially interested in, which is the way in which atomic energy programs are self-represented. I have a long post in the works about the origins of the emblem/seal/logo of the International Atomic Energy Agency, which has an interesting story behind it. But for today, I want to share some things I found in the National Archives relating to the U.S. Atomic Energy Commission (AEC) seal.
The AEC seal is one of those great totems of the atomic age. A largely symmetrical and stylized representation of an atom (the highly toxic beryllium, but who's counting?), it is strikingly more straightforward than the seals of its successor organizations, the Energy Research and Development Administration and the Department of Energy:
ERDA's seal is entirely misleading (unless one interprets that "sun" to be an exploding nuclear fireball, I suppose), while the DOE's is a design-by-committee monstrosity. (You can imagine the committee meeting. "Let's have sun, and an atom, and an oil well, and a windmill, and, uh, a turbine, I guess, and maybe, um, lightning? And all of it on a shield. With a bald eagle's head on top of it. That would look so killer.")
By contrast, the AEC seal is simple, efficient, and reasonably accurate. A real triumph of late-1940s government graphic design. It also reproduces well when reduced in size, which is more than you can say about the DOE logo: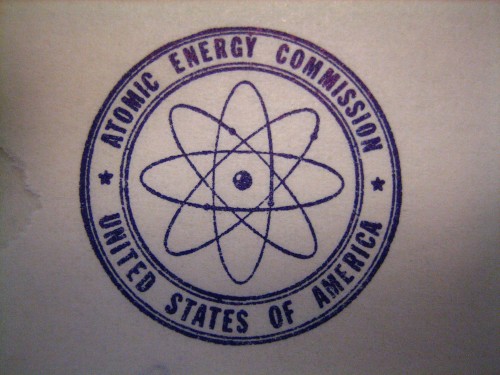 So where'd it come from? One thing that I was surprised to come across in the AEC's records is the fact that the famous AEC seal was created no sooner than January1949 — two years after the AEC was created (the AEC officially came into existence and took over from the Manhattan Project in January 1947, but was being organized and meeting as early as 1946). For the first few years, they didn't use a seal at all, they just wrote "ATOMIC ENERGY COMMISSION" on everything.
Not exactly the historical revelation of the year, but it's interesting how easily we take for granted something like this. I guess I had always assumed that the seal was born with the organization.